Leiden expands collaboration with Mexico
A delegation from Leiden University is currently visiting Mexico to initiate collaboration with universities and science funding bodies in the country and to extend and expand existing partnerships. Rector Magnificus Carel Stolker is confident enough already to call it a success.
A few flowing signatures and firm handshakes and the deed was done: on Monday 23 October, Rector Magnificus Carel Stolker signed an agreement with Universidad Autónoma de México (UNAM) in Mexico City. With no fewer than 342,000 students, this is the biggest university in the country and number one in the national rankings. Leiden and UNAM both expressed their wish for further collaboration, for example in the area of student exchange and scientific research.
World-class institutes
This was just the first of a series of agreements with Mexican research institutes. That same Monday Stolker also signed an agreement with Universidad Autónoma Metropolitana (UAM) and Centro de Investigaciones y Estudios Superiores en Antropologia Social (CIESAS). On Tuesday and Wednesday it was the turn of El Colegio de México (COLMEX), a world-class institute in the area of social sciences and humanities, Universidad Iberoamericana (IBERO) and Beneméria Universidad Autónoma de Puebla (BUAP). Each of these agreements is crucial in setting out further collaboration and in many cases formalising longstanding informal relations.
Leiden University also entered into a very important partnership with CONACyT, Mexico's primary funder of research, comparable with the Netherlands Organisation for Scientific Research (NWO). This partnership will make it possible for Mexican PhD candidates to apply for grants so that they can come to Leiden to conduct research. Every year a call will be put out among PhD researchers in Mexico who are interested in studying in Leiden. The signing of the agreement took place in the residence of the Dutch Ambassador to Mexico, Margriet Leemhuis.
Why Mexico?
'Latin America has been one of Leiden University's key focal areas since 2014, along with Indonesia and China,' Marianne Wiesebron, regional coordinator for Latin America and organiser of the visit, explains. 'Leiden has always had a wide base of knowledge on the region. Leiden archaeologists and linguists, for example, know a lot about the indigenous cultures and languages of the continent. But in the field of social sciences, medicine and natural sciences, too, there are many benefits to further exchanges with the region. We know this principle works from similar visits in previous years to Brazil and Chile.'
'We've seen recently that Mexico is increasingly turning away from its major economic partner, the United States,' Wiesebron goes on. 'That's a worrying situation politically, but at the same time it's a golden opportunity for the European Union including the Netherlands to improve collaboration with this Central American country. This delegation is a way of showing how important we believe this collaboration is.'
Concrete projects
Leiden researchers from almost all faculties are accompanying the Rector on this visit to Mexico. Each of them has his or her own reasons, but there is one thing they have in common: the agreements that are being entered into pave the way for concrete research and educational projects, whether these are at the Faculty of Archaeology or the Faculty of Governance and Global Affairs.
'I'm hoping to set up a student exchange programme between the Faculties of Humanities at Leiden University and UNAM,' an enthusiastic Edmund Amann, Professor of Brazilian Studies, comments enthusiastically. One of his former PhD candidates from Mexico put the two faculties in contact with one another. 'This overarching agreement, signed by the Rectors of both universities, is very welcome.'
From forensic analyses to linguistics
Professor of Molecular Cell Biology Herman Spaink is confident that in the near future these agreements will lead to concrete collaborative projects. He visited the forensic institute of Mexico City, a research facility that analyses no fewer than 5,000 deaths every year. Spaink: 'These numbers are enormous compared to Leiden where forensic experts are involved only a few times a year in examining the most difficult cases. I have agreed with the Mexican forensic institute that we will together look at ways of learning from one another. They could benefit from our sequencing technique, for example, that allows us to chart enormous amounts of DNA very rapidly.'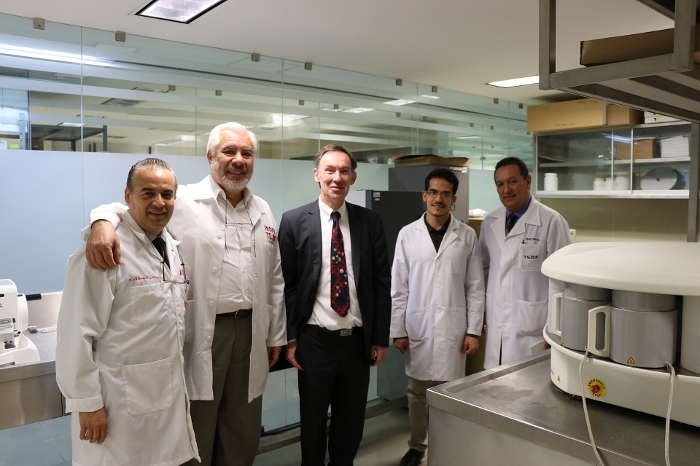 Steps have been taken towards further collaboration with Mexico in numerous other fields, including healthy ageing (Jacobijn Gussekloo), the study of indigenous languages (Niels Schiller), sociology and urban studies (Daniela Vicherat Mattar) or psychology (Andrea Evers): all these researchers were warmly welcomed by the Mexican institutes. In many instances agreements were reached on further collaboration in specific fields of research.
Alumni in the spotlight
The visit at the same time offers a good opportunity to cement relations with Mexican alumni who have studied in Leiden. Around 30 alumni joined the alumni event held in Mexico City on 23 October. Some of them had even taken an interior flight to be present. After Brazil, Mexico sends the largest number of Latin American exchange students to Leiden, and the alumni network currently has some 200 Mexican alumni registered. A large number of these are back working in Mexico, and there are also a number of Dutch alumni who live and work in Mexico.
'It is fantastic that there is so much interest in the alumni network,' Carel Stolker comments. 'I deliberately started making contact with alumni and local embassies during my foreign visits four years ago. And it works: what you see is that many alumni are delighted to have this opportunity to meet up with one another. Leiden really is a piece of shared history for them, and that's something they emanate to their friends and family. Enthusiastic alumni are the best ambassadors a university can wish for, so it's logical that we organise evenings like this for them from time to time.'
Indirect benefits
Although the visit to Mexico is not yet over, Stolker is confident enough to refer to it as a success. Not only are the Mexican universities happy to receive the Leiden delegation, they are also keen to get down to concrete activities. The Rector of UNAM, for example, spoke very positively about having more student exchanges and PhD places for Mexicans in Leiden. Stolker: 'That's where Leiden's excellent worldwide reputation makes a difference.' The visit also shows how important it is that researchers from the countries being visited are also part of the delegation. Archaeologists Genner Llanes Ortiz and Iván Rivera Guzmán were particularly invaluable in the contacts with the Mexican universities. Not only that, they were highly effective in their role as tour guides at the ruins of Teotihuacan, the biggest city in Central America before Columbus's arrival.
Stolker also praised the indirect benefits of the Mexico visit. 'I always make these visits with a – preferably internationally very diverse - group of our researchers, young and old. It's interesting to see what an effect the visit has on them. There's a good atmosphere, they have a lot of interaction with one another and they talk about one another's field of work. So often they find there are large overlaps between their different fields that transcend faculty borders. Interactions take place that, as a university administrator, you would never image.' This visit to Mexico, like many before it, benefits not only international collaboration, but also relations within Leiden University itself.