Raymond Buve: famous in Mexico
Professor of Latin American Studies Raymond Buve was a pioneer in forging relations between Leiden and Mexico. Although he has since retired, he is still honoured by many Mexicans, as was clear when a Leiden delegation recently visited the country.
Generous, kind and big-hearted. These are the words used by Blanca Santibáñez to describe her former supervisor, emeritus Professor Raymond Buve. We are sitting in a restaurant in the city of Pueblo in Mexico, where she lives, and since the name Buve was mentioned she hasn't stopped beaming. 'He was much more than a supervisor; he was more of a personal coach, a true friend. The same goes for his wife.'
Santibáñez met Buve in the early eighties at a conference in Mexico. At the time she was conducting research on the textile industry in the region, and Buve was highly interested in her work. He had already built up a considerable international reputation as a professor in the History of Latin America, and Santibáñez regularly cited his work. In 2006 Buve invited her to Leiden to study for a doctorate. 'Once I arrived in Leiden, Raymond more or less adopted me. He always called me his "academic daughter", and that's just what it felt like.'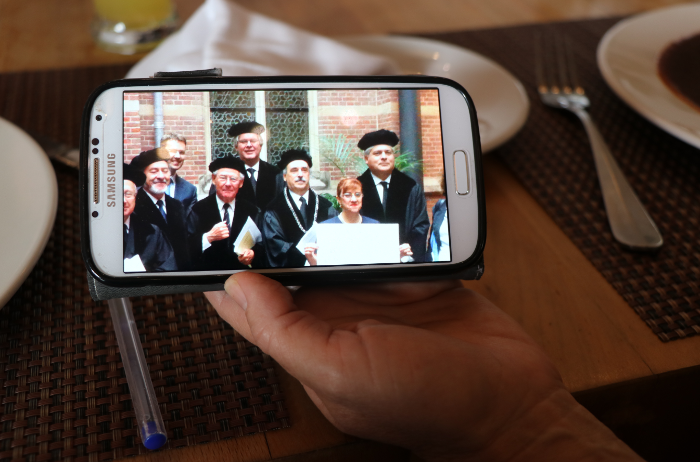 It recently became clear just how highly Buve's work and he himself as a person are valued in Mexico. A delegation from Leiden University visited Mexico from 21 to 26 October to strengthen ties with Mexican research institutes and science funding bodies. Several of these institutions praised Buve, who was unfortunately not able to be present in person. They extolled his many years of commitment to strengthening the ties between Mexico and Leiden. His knowledge of the country is enormous, and he has an extensive network of Mexican scientists and university administrators.
One of the visits made by Rector Magnificus Carel Stolker was to the library of the Benemérita Universidad Autónoma de Puebla (BUAP). The library has many works by Buve in its collection, including works from his private collection that he donated to the library after he retired. Some of the books even still contain post-it notes written by Buve himself. On one such note on the title page of a book he commented that the book was too much like a boring list.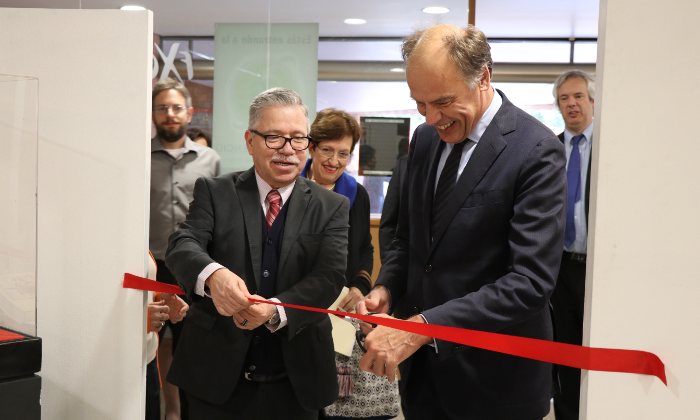 The Universidad Iberoamericana (IBERO) in Mexico City had also prepared a surprise. Stolker was asked to unveil an exhibition in the universty library celebrating over 38 years of collaboration between IBERO and Leiden University. This exhibition of photos, books and official documents - including the original doctoral diploma of a Mexican PhD candidate - clearly celebrated the strength of the international partnership between IBERO and Leiden. 'And Buve was the key to this excellent relationship,' one of the Mexican scientists commented.
According to Dr Santibáñez, it is right and fitting that Buve is treated as special in Mexico. Seven Mexicans at IBERO University alone obtained their PhD under Buve's supervision, and all of them received a warm welcome in the Netherlands. 'Any time when I really thought I'd had enough of my PhD studies, he was always able to put things in perspective for me,' Santibáñez says. '"It's only a dissertation," he would say. That helped me a lot. I thank God that Buve crossed my path.'