Research project
Water and Society Lab
How do societies move forward with sustainable, effective and efficient management of Earth's water resources?
Duration

2018 - 2023

Contact
Contact
The Water & Society Lab is jointly organised by Leiden University College and the Institute of Cultural Anthropology and Development Studies. For more information about the project, contact Sabine Luning or Paul Hudson.
About the project
Histories of human settlement along rivers and deltas reveal the importance of water to societies worldwide. Water is a shaper of social life and the environment, but also a major cause for conflict associated with geopolitics related to transnational rivers, social protests against dams and forced migrations.
Understanding societal relationships with water is critical to the survival of humans and Earth's natural systems. How societies move forward with sustainable, effective and efficient management of Earth's water resources requires perspectives from multiple disciplines. Interdisciplinary and transdisciplinary perspectives are key to realizing inclusive, equitable and innovative strategies that address social and economic prosperity as well as the ecological well-being of associated environmental systems. Water quality and quantity are impacted by a range of human activities, distributed across different landscapes. The extraction of raw materials together with cultivation, for example, negatively impacts water resources with adverse consequences to landscapes, environmental processes, ecosystem services and human health and well-being.
[Top image: Urban flooding in New Orleans (2005) caused by Hurricanes Katrina-Rita and a legacy of improper land use. (Source:Wikimedia Commons)]
Major challenge
The impact of global climate and land use change on water resources is a major challenge that needs to be addressed with science-based policy. A prime example is the effective operation of dams, which requires that climate change, land use, biodiversity, as well as social and cultural tradeoffs are inherent in their construction and management. These concerns highlight the importance of effective institutional and legal frameworks to develop sustainable policy and arrive at equitable allocations of water resources. Implementing effective management strategies, however, is dependent upon societal norms and cultural practices that needs to be considered at local-scales in relation to global environmental change.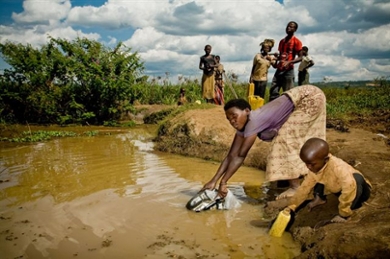 Expertise across Leiden University
Leiden University has expertise on a range of water resource topics across several faculties, including Faculties of Science, Archaeology, Social Sciences, Governance and Global Affairs, Law, Science, and LawArchaeology. Additionally, extensive expertise exists in governmental and non-governmental organizations within The Hague and Leiden.
Goal
The goal of the Water and Society Lab is to foster the development of an interdisciplinary framework to bring together such expertise from across Leiden University and adjacent institutions to highlight our mutual expertise and collective strengths. In so doing, a related aim is to serve as an incubator for ideas to pursue collaborative research opportunities. Additionally, the Water and Society Lab will host Water Talks, a series (4 per year) of invited lectures open to the community that focus on interdisciplinary dimensions of water resources related to societal challenges.
Themes
The overarching theme of Water and Society touches upon a multitude of topics within three sub-themes of Water and Livelihoods, Water and Environment, and Water and Governance.
Water and Livelihoods:
- Specific foci: agriculture and food production, water security, sustainable development, urbanization, health, heritage and culture, economic and social development.
Water and Environment:
- Specific foci: biodiversity and conservation, energy-water nexus, water quality, land degradation, floods and droughts, water allocation and sustainability, climate change and sea level rise.
Water and Governance:
- Specific foci: legal regulation, water rights and local access, water conflicts and treaties, management, community organizations, economics, politics, policy and institutions.
Dr. Adriaan Bedner, Van Vollenhoven Institute (Law), legal issues and water rights (in Indonesia)
Dr. Paul Behrens, LUC (FGGA) and CML (SCI), physics, energy, food, and water resources
Dr. Thijs Bosker, LUC (FGGA) and CML (SCI), aquatic biology, ecotoxicology, coastal ecosystems
Dr. Peter Houben, LUC (FGGA), physical geography, historic water resources, land degradation and climate change
Dr. Paul F. Hudson, LUC (FGGA), physical geography, watershed hydrology, flood control and river engineering, sediment transport, human impacts on landscapes
Dr. Sabine Luning – CADS (FSW), anthropology, landscape change, mining and water management
Dr. Annie Trevenen-Jones – LUC (FGGA), international development and environment
Dr. Merlijn van Weerd – CADS (FSW) and CML (SCI), biology/anthropology, water and ecosystem management in Philippines, biodiversity and conservation
Dr. David Zetland, LUC (FGGA), economics, water policy (esp. groundwater), sea level rise and adaptation
Dr. Paul Behrens:
Paul Behrens is a physicist by training and now works in the environmental sciences. His current work focuses on the environmental impact of human consumption, including energy, food, and water. He uses large-scale modelling and GIS to trace the impacts of consumption locally and through trade. Paul has has worked in industry, NGOs, and academia. He is passionate about science outreach and his recent research, published in the Proceedings of the National Academy of Sciences and Nature Energy, has appeared in The New York Times, the BBC, and Scientific American.
P. Behrens et al., Evaluating the environmental impacts of dietary recommendations. Proc. Natl. Acad. Sci. 114 (2017), doi:10.1073/pnas.1711889114.
P. Behrens, M. T. H. van Vliet, T. Nanninga, B. Walsh, J. F. D. Rodrigues, Climate change and the vulnerability of electricity generation to water stress in the European Union. Nat. Energy. 2, 17114 (2017).
P. Behrens, Bosker, T., Ehrhardt, D., Food and Sustainability, Oxford University Press, to be published February 2019.
Dr. Thijs Bosker:
Dr. Thijs Bosker is an Associate Professor in Environmental Science at Leiden University. He obtained a BSc and MSc in Plant Science at Wageningen University (the Netherlands), specializing in sustainable agriculture. Next, Thijs worked for an NGO where he focused on reducing pesticide emissions to the environment. In 2005 he moved to Canada to complete a PhD in aquatic toxicology at the University of New Brunswick. He continued as a postdoctoral fellow at the Canadian Rivers Institute, became an Assistant Professor at the University of Connecticut (USA), before moving to Leiden University. In his current research he uses laboratory and field techniques to study impacts of contaminants on ecosystem health. Thijs has worked on a variety of environmental issues, with a special focus on the combined impacts of contaminants and environmental stressors on reproduction and development of organisms. At Leiden University he teaches courses in Ecotoxicology, Environmental Science and Sustainability.
Lots F, P Behrens, M Vijver, A Horton, T Bosker. 2017. A large-scale investigation of microplastic contamination: abundance and characteristics of microplastics in European beach sediment. Mar Poll Bull 123, 219-26
Jaikumar G, J Baas, N Brun, M Vijver, T Bosker. 2018. Acute sensitivity of three Cladoceran species to different types of microplastics in combination with thermal stress. Environ, Poll. 239, 733-740
Bosker, T., KR. Munkittrick, and DL. MacLatchy. 2010. Challenges and opportunities with the use of biomarkers to predict reproductive impairment in fishes exposed to endocrine disrupting substances. Aquatic Toxicology 100, 9-16
Dr. Peter Houben:
Peter Houben is a broadly trained physical geographer whose main interests are within the interaction between soil and river systems and human activities. Peter's interests touch on topics of soil and water resources management, landscape functioning and ecosystem services in the Anthropocene. His teaching draws on own field-oriented data recording using information from a range of related fields such as geology, climatology, archaeology, and agriculture. At Leiden University College Peter teaches courses in Earth System Science, Climate Change, Field Methods, and Soils.
Brown, A.G., Lespez, L., Sear, D.A., Macaire, J.-J., Houben, P., Klimek, K., Brazier, R.E., Van Oost, K., Pears, B., 2018. Natural vs anthropogenic streams in Europe: History, ecology and implications for restoration, river-rewilding and riverine ecosystem service. Earth-Science Reviews 180, 185-205.
Houben, P., 2012. Sediment budget for five millennia of tillage in the Rockenberg catchment (Wetterau loess basin, Germany). Quaternary Science Reviews 52, 12-23.
Houben, P., Schmidt., M., Mauz, B., Stobbe, A., Lang, A. 2012. Asynchronous Holocene colluvial and alluvial aggradation: a matter of hydrosedimentary connectivity. The Holocene 23, 544-555.
Dr. Paul F. Hudson:
Paul Hudson is Associate Professor at Leiden University since 2012, and formally was Assistant and Associate Professor at University of Texas at Austin. His scholarly interests in water resources stem from formal training and research in hydrology in relation to river and floodplain management using field and GIS based methods. Within this realm his main focus has been oriented towards understanding human impacts on lowland rivers and deltas, with considerable work on the Lower Mississippi in Louisiana. In the future he is also interested in collaboration and the application of hydrological sciences to a broad range of topics outside his immediate area of expertise, including (but not limited to) development, agriculture, urbanization, cultural adaptation to flood risk, and ecosystem services.
Hudson P.F. 2018. Towards integrated flood management along the lower Rhine and Mississippi Rivers and the international legacy of the 2005 New Orleans Hurricanes Katrina–Rita flood disaster. International Journal of River Basin Management 16 (1).
Most M. van der and Hudson P.F. 2018. The influence of floodplain geomorphology and hydrologic connectivity on alligator gar (Atractosteus spatula) habitat along the embanked floodplain of the Lower Mississippi River. Geomorphology 302, 62-75.
Hudson P.F. and Middelkoop H. 2015. Geomorphic Approaches to Integrated Floodplain Management of Lowland Fluvial Systems in North America and Europe. Springer-Verlag, New York, 356 p.
Dr. Sabine Luning:
Sabine Luning works at the Institute of Cultural Anthropology and Development Sociology where she focuses her research and teaching on economic anthropology and issues of sustainability. In the past, she has worked in development projects and ever since she has retained an interest in the social relations, power dynamics and organizational culture of development initiatives. For the past 10 years, she has been working on social aspects of large-scale and small-scale gold mining foremost in Burkina Faso, but also in Ghana, Suriname, French Guyana and Canada. She is interested in the effects of global connections on local situations, e.g. the dynamics around industrial mines of Transnational Companies operating in West Africa.
She is currently focusing on Landscapes of Extraction, with a particular interest in how mining affects water quality and distribution in West Africa. She is collaborating with modellers (e.g. hydrologists and mining engineers), visual anthropologists, artists, and photographers to combine different methods of visualizing landscape dynamics. From October 2o18 onwards these methods and collaborations will be developed further in the NORFACE project: Sustainability Transformations in Artisanal and Small-scale Gold Mining: A Multi-Actor and Trans-Regional Perspective - ST-ASGM.
Luning S.W.J. & Pijpers R.J. 2017. Governing access to gold in Ghana: In-depth geopolitics on mining concessions, Africa: journal of the International African Institute 87(4), 758-779.
Luning S. & De Theije M. 2014. Global gold connections: Ethical consumption and the beuaty of bonding Artisanes. In: Barendregt B., Jaffe R. (Eds.) Green Consumption: The Global Rise of Eco-Chic.: Bloomsbury, 56-73.
Luning S., Jansen J.A.M.M. & Panella C. 2014. The Mise en Valeur of the gold mines in the Haut-Niger, 1918-1939, French Colonial History 15, 67-87.
Dr. Annie Trevenen-Jones:
Annie Trevenen-Jones has blended her international sustainable development work with the on-going pursuit of and contribution to knowledge and skills in academia. She is interested in ecological relations i.e. people's everyday perceptions and practices of themselves and the non-human environment. Building on scientific, management and interdisciplinary studies in agriculture, environment and development, her primary focus is on ecological identity and practice, poverty, food security (and insecurity), zero waste and the circular economy. Her present research study, as part of a knowledge partnership, concerns food waste in a smart, sustainable and inclusive city of the future.
Dr. Annie Trevenen-Jones has published numerous government reports focusing on policy interpretation into delivery as framed by poverty eradication, economic growth and development and sustainable commitments regards the non-human environment.
Trevenen-Jones, A and others. 2008. Gauteng Provincial Legislature Portfolio Committee for Agriculture, Conservation and Environment 2008. Committee Oversight Report of the Department of Agriculture, Conservation and Environment's Budget Vote 11 2008/09 of the Gauteng Provincial Government's Provincial Appropriation Bill [G001-2008].
Trevenen-Jones, A. 2000. Treasure oil spill poses challenge for South African environmental policy. Ecomeme 1(2000).
Dr. Merlijn van Weerd:
Merlijn van Weerd conducted studies on wetlands and biodiversity & conservation in the Netherlands, Cameroon, Mozambique and the Philippines. In 2003 he co-founded the Mabuwaya Foundation in the Philippines which implements (wetland) biodiversity conservation projects. Since 2010, he organizes and mentors an annual month-long interdisciplinary course on water use and management in the Philippines for 15 Leiden University and 15 Philippine students. This course is offered by the Institute of Environmental Sciences (CML) and Cultural Anthropology (CA) of Leiden University and Isabela State University in the Philippines. He is interested to further develop interdisciplinary studies and education in relation to water and society.
Weerd M. van, Taggueg J., Luning S., Masipiquena M., Kok R., Gatan-Balbas M., Osterhaus-Simic N. & Persoon G.A. 2016. The World of Water - The International Course on Water Use and Management in Cagayan Valley - The Philippines (2011-2015). Leiden: Institute of Cultural Anthropology and Development Sociology Leiden University.
Van der Ploeg J., Cauilan-Cureg M., Weerd M. van & Groot W.T. de 2011. Assessing the effectiveness of environmental education: mobilizing public support for Philippine crocodile conservation, Conservation Letters 4(4), 313-323.
Weerd M. van & Van der Ploeg J. 2004. Surveys of wetlands and waterbirds in Cagayan Valley, Northern Luzon, Philippines, Forktail 20, 33-39.
Dr. David Zetland:
David Zetland is an assistant professor at Leiden University College, where he teaches various classes on economics, sustainability and entrepreneurship. He received his PhD in Agricultural and Resource Economics from UC Davis in 2008 (Dissertation: Conflict and Cooperation inside a Public Corporation: a Case Study of the Metropolitan Water District of Southern California). He blogs at The One-handed Economist, has written two books (The End of Abundance: economic solutions to water scarcity, and Living with Water Scarcity) and edited two collections of climate disruption stories (Life plus 2 Meters, Volumes I and II). David gives talks to public, professional and academic audiences and writes for popular and academic outlets.
Zetland, D. and Colenbrander, B. 2018. Water civilization: The evolution of the Dutch drinking water sector. Water Economics and Policy 4, DOI: 10.1142/S2382624X18500121.
Zetland, D. 2017. Desalination and the commons: tragedy or triumph?" International Journal of Water Resources Development 33, 890-906.
Schuerhoff, M., Zetland, D. and Weikard, H-P. 2013. The life and death of the Dutch groundwater tax. Water Policy 16, 1064-1077.
Mr. Marcel Tirion, Manager Sewerage, Soil & Roads, DSB/ Stedelijk Beheer
Ms. Astrid de Wit, Programme Manager for Adaptive Delta, Province of South Holland
Drs. A.M. (Astrid) de Wit MPA (1971) studied public administration at the University of Twente in Enschede and at the Dutch School of Public Government (NSOB) in the Hague. After working for the local government for several years, she started to work for the Province of South-Holland in 2006 as a manager. Since 2017 her main focus is on climate adaptation. Astrid advocates a multidisciplinary and multi-level approach to cope with this key issue. Under her direction the province of South-Holland published in 2019 "Weather-resilient South-Holland" (Weerkrachtig Zuid-Holland). In this publication the province has analyzed the impact of climate change to provincial tasks and responsibilities, and the way the province can act in collaboration with other partners to keep South-Holland attractive and livable in the future.
Mr. Dolf Kern, Senior Policy Advisor, Rijnland Water Authority
At Rijnland Dolf Kern is the senior advisor for the programme "climate adaptation" (deluge, water scarcity, groundwater, land subsidence, regional developments). He represents the Netherlands water authorities in at the national Delta programmes on water scarcity and climate adaptation and the evaluation of the drought of 2018. He is also involved in several regional multi stakeholder cooperation's on water management, land subsidence, urbanisation. Dolf is also a member of the steering committee on water system analysis at STOWA (research organisation for the Netherlands Water Authorities).
Dolf received an MSc in Hydrogeology (1988) from the VU Amsterdam, with supplementary course Sanitary engineering (TU Delft). From 1988-1994 he was at the Netherlands ministry for international cooperation stationed Mozambique as Hydrogeologist in de national Directorate for water. From 1994-2001 he worked for the drinking water company & BKH in consultancy as a senior Hydrogeologist. From 2001-2006 he worked for the Municipality of Amsterdam as Advisor on Integrated Water Resources Management. From 2006-present Dolf has worked for the Regional Water Authority Hoogheemraadschap van Rijnland as strategy advisor.