Five Leiden professors elected to KNAW
The Royal Netherlands Academy of Arts and Sciences has elected five Leiden professors from different disciplines as new members. Two of the new members are women.
KNAW members are selected on the grounds of scientific excellence. The Academy has some 550 members. Membership is for life.
KNAW advises on a broad range of topics in the world of arts and sciences. This advice is formulated by advisory councils and committees, largely made up of members of the Academy. They propose topics and play a role in peer reviews of the recommendations. In recent times, KNAW has issued advisory memoranda on the freedom of scientific practice in the Netherlands, the attractiveness of the Netherlands as a research country and replicating research. Big Data is one of the topics currently under review.
The new Leiden members of KNAW are: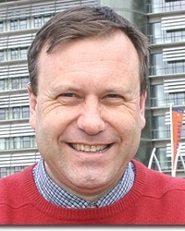 Peter ten Dijke
Professor of Molecular Cell Biology, in particular signal transduction, LUMC
Peter ten Dijke (1960) has been a talented cell biologist for over thirty years. He has conducted pioneering work in clarifying the central role of the TGF-beta growth factor. This growth factor is found in the cells of the human body and is at the root of many types of cancer. Ten Dijke and his research team discovered a range of molecules that can keep this growth factor in check, a discovery that has led to new treatments not only for cancer, but also for bone diseases, wound healing and cardiovascular conditions. Ten Dijke is one of the world's most highly cited Dutch researchers. He organises an international conference every two years for TGF-beta researchers and is also actively involved in the career development of students and post-doctoral fellows.
Judi Mesman
Professor of Interdisciplinary Study of Societal Challenges, Leiden University College The Hague
Judi Mesman (1974) studies how children and adults see themselves and one another in society using insights from different disciplines. Mesman has made a name for herself as an expert in the area of socialisation in early childhood in different cultures, and gender stereotypes in upbringing. She has shown, for example, that fathers and mothers subtly and often unconsciously convey to children what behaviour they think is appropriate for boys and girls. Mesman is one of the four Athena's Angels: four Dutch women professors who actively promote the interests of women in science. She is also dean of Leiden University College, where the key focus is on major challenges in society.
Michel Orrit
Professor of Spectroscopy of Molecules in Condensed Matter, Leiden Institute of Physics
Michel Orrit (1956) laid the foundation for single-molecule optics. He developed a sensitive technique that uses laser light at specific wavelengths to illuminate individual molecules. At first, only fluorescent molecules could be studied, but later Orrit broadened the technique so that it also worked for 'dark' molecules. One of his most recent achievements is the ability to scan the conditions in a cell using nanoscopically minute tweezers. Orrit's methods make it possible to unravel all kinds of physical and chemical processes in living matter. In 2017 he was awarded the NWO Spinoza Prize.
Hermen Overkleeft
Professor of Bio-organic Synthesis, Leiden Institute of Chemistry
Hermen Overkleeft (1969) wants to gain insight into biological processes at molecular level. He combines organic chemistry with glycobiology and immunology. He designs, for example reactive molecules that react with different classes of enzymes - both proteases and glycosidases - and subsequently remain irreversibly bonded.Using this toolkit, he has developed diagnostic agents that can be used in a variety of diseases, from haematological cancers to lysosomal storage diseases. These reagents can also be used in the search for compounds that could affect these diseases.
Judith Pollmann
Professor of Early Modern Dutch History, Leiden Institute for History
Judith Pollmann (1964) studies the history of the Eighty Years' War (1568 -1648), using diaries and chronicles to study how Dutch people handled the religious and political conflicts that divided them. Through her research she has been able to explain why this division led at certain times to exclusion and violence and at other times appeared to have little or no impact. She has recently demonstrated how memories of the war have permeated through into the creation of a Dutch identity. Pollmann is scientific adviser for a seven-part TV series on the Eighty Years' War that will be broadcast this autumn by the NTR.
The KNAW also comprises fifteen research institutes in various disciplines: the humanities, social sciences and life sciences and one at the interface between science and government policy. These institutes are intended to help set the agenda for science and politics.
(CH)