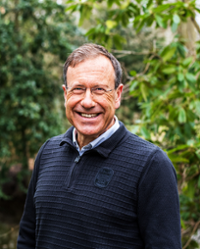 Peter ten Dijke
Professor of Molecular Cell Biology, in particular signal transduction
Name

Prof.dr. P. ten Dijke

Telephone

E-mail
• Section head "Cancer Signaling Networks and Molecular Therapeutics", Dept. of Cell and Chemical Biology, LUMC • Principle investigator Oncode Institute and Cancer Genomics Center Netherlands • Honorary doctorate from Uppsala University (2005) • Guest professor at Uppsala University Sweden, Tsukuba Universitity, Japan en Zhejiang Universitity, China. • Panel member, Dutch Cancer Foundation (KWF, Assessment committee 'Exploration').
More information about Peter ten Dijke
Cell signalling
All animal and plant cells sense the environment in which they grow and mount appropriate responses to these stimuli. One of the most important ways in which this is achieved is through receptors expressed at the surface of cells that bind to specific factors, which stimulate a chain of molecular intracellular events leading to an appropriate response. Ten Dijke investigates how the corruption of these normal processes lead to variety of diseases, including cancer, cardiovascular dieases and fibrosis. Moreover, modulation of this pathway can induce powerful regenerative effects on muscle, cartilage and bone.
The one size fits all to approach to medicine is changing. In recent years, there has been a fundamental move towards treatments tailored to the specific needs of patients. Ten Dijke is designing tools to facilitate this paradigm shift in patient care.
Academic career
Peter ten Dijke received his Ph.D. degree in 1991 from Wageningen University, The Netherlands based on his research on the identification of the third isoform of TGF-β performed at Oncogene Science, Inc., New York, USA. He did his postgraduate studies with Kohei Miyazono and Carl-Henrik Heldin at the Ludwig Institute for Cancer Research (LICR), Uppsala, Sweden. In 1994, he became group leader at LICR and in 1999 he moved to the Netherlands Cancer Institute, Amsterdam, The Netherlands. In 2005 he moved to the Leiden University Medical Center, Leiden, The Netherlands, and is currently a professor of molecular cell biology at Leiden University. His laboratory studies the molecular mechanisms by which TGF-β family members elicit their cellular effects via (co)receptors and intracellular SMAD effectors, and how subverted TGF-β family signaling is involved in cancer, vascular and bone diseases.
Ten Dijke was appointed on 1 June 2005 as full Professor at Faculty of Medicine in molecular cell biology, with focus on signal transduction. Title of his inaugural lecture; "Restoring homeostasis with signal transduction".
Prizes and honourable appointments
Long-term EMBO Fellowship (1992), Small Fernström prize for promising scientist in Sweden (1998),
VICI grant Netherlands Organization for Scientific Research (2006),
LUMC Education prize for best course (2010),
Chang Jiang Scholar award from the Chinese Ministry of Education (2015)
FEBS national lecture award (2015), Noreen Cunningham lecture award (2015),
EMBO member (2016).
Professor of Molecular Cell Biology, in particular signal transduction
Faculteit Geneeskunde
Divisie 4
Cel en Chemische biologie
Consultant
Consultant
Guest professor
Guest professor
Guest professor