Large Vidi subsidies for 5 humanities scholars
5 talented Leiden humanities scholars have received a Vidi research subsidy of 800.000 euros to set up or expand their own line of research.
Winners
Alicia Schrikker, Lara Weiss, Victoria Nyst and Karène Sanchez all receive the subsidy, together with future Leiden University scientist Jenneke van der Wal who currently works at Harvard University. Van der Wal will join the Leiden University Centre for Linguistics, bringing LUCL's Vidi's to three.
In total, Leiden University researchers receive eleven Vidi subsidies. An above average number.
The research topics
Alicia Schrikker
Institutional memory and colonial culture
How did Dutch colonial officials justify their work? This project examines previously underutilized colonial sources to answer this question. The hypothesis is that the interplay between local practice and political thought was crucial to the development of Dutch enduring visions about the legitimacy.
Meer over Alicia Schrikker
Lara Weiss
The Walking Dead at Saqqara
In ancient Egypt, just as today, religion was subject to constant change. Changing religion will be scrutinized in the Saqqara necropolis in terms of individual/group practices, transmission of texts/decoration as well as the changing landscape. This project thus adds historical depth to the question of how traditions are shaped, modified or even invented.
Meer over Lara Weiss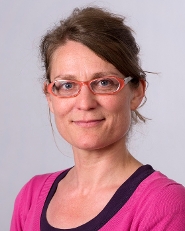 Victoria Nyst
From Gesture to Language
This research will compare the gesturing of hearing speakers with the sign languages that emerged in villages with a high incidence of deafness in West Africa, to establish whether grammatical differences in sign languages can be traced to cross-cultural differences in gesture.
Meer over Victoria Nyst
Karène Sanchez
CrossRoads: European cultural diplomacy and Arab Christians in Palestine
Culture was one of the key instruments used by European Powers, the Vatican and the Orthodox Church to enhance their influence in Palestine between 1920 and 1950. This project investigates the way in which this impacted the cultural identity of two Arab-Christian communities: the Orthodox and the Melkite.
Meer over Karène Sanchez
Jenneke van der Wal
How salience determines grammar
Languages differ in their grammar. Many European languages use grammatical roles like subject and object, forming the basis of current universal models of grammar. However, Bantu languages don't fit these models. How is their grammar organised? Together with African linguists, this project develops a more encompassing model based on salience.
Meer over Jenneke van der Wal
Innovational Research Incentive Scheme
The Vidi is a research subsidy from NWO's Innovational Research Incentive Scheme under which postdocs who have several years of research experience are awarded a subsidy of a maximum of 800,000 euros to set up or expand an innovative line of research. They can also use the funds to appoint other researchers.