'A handful of companies can't be allowed to dominate the market'
European Commissioner for Competition, Margrethe Vestager, gave a warning in the Europa Lecture on 14 June about large companies that abuse their power. 'An honest society begins with honest markets.'
Price-gouging by drugs manufacturers
The European Commissioner started her lecture in the Academy Building with a worrying example from the pharmaceutical industry. A fews weeks ago Vestager initiated an enquiry among pharmaceutical companies that shamelessly hike up the prices of medicines. She mentioned the example of Aspen Pharma that raised the price of cancer drugs by several hundred per cent, while the lives of many people are dependent on these drugs. 'A honest society starts with honest markets.'
Big data
Vestager made several references to the pros and cons of globalisation. New technological developments such as the use of big data can improve our lives and bring us such benefits as personalised medicine. But the use of big data can also be a danger for society if only a few companies have access to it and they create obstructions for others.
Google and Facebook
Vestager warned about the working methods of the major internet companies who currently dominate the digital world: 'They cannot be allowed to abuse their power by forcing others out of the market so that consumers have less choice.' Verstager was obviously referring to Google and Facebook, but surprisingly enough she did not mention the companies by name that the European Commission is currently investigating.
Nightmare of Silicon Valley
The Danish European Commissioner is referred to as the nightmare of Silicon Valley. She instructed Ireland to claim 13 billion euros from Apple because of tax evasion. And besides Google, she is also investigating Facebook because, having taken over WhatsApp, the company now intends to link users' telephone numbers to Facebook accounts, contrary to the agreements that were made. Verstager was unwilling to reveal any details of these cases during her lecture, but she did say that the new EU privacy rules due to come into force after 2018 are intended to counter these kinds of practices. When introducing any new digital service, companies have to guarantee the privacy of the user, 'so that people are treated decently at all times, not just once complaints are made.'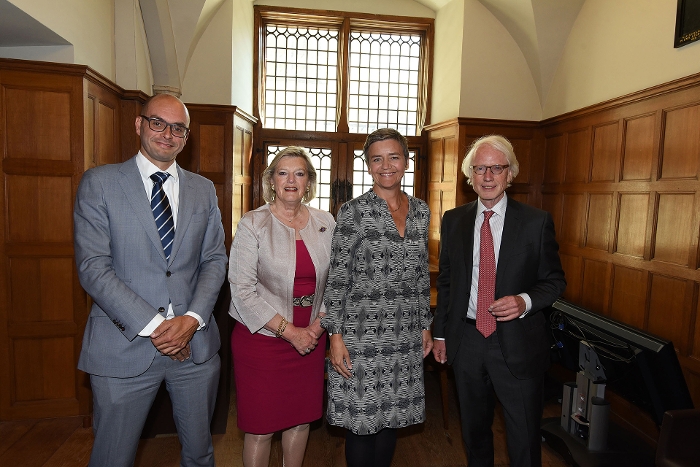 Exodus from Europe?
Doesn't this strict approach to American companies mean that they will probably not want to invest in Europe in the future, a Leiden student of competition law asked. Vestager believes this is unlikely. 'There are many factors that determine the investment climate, such as a good infrastructure, highly educated workforce and a secure environment - and Europe offers all of these.'
More attention from the media
She did emphasise that better cooperation is crucial in such a rapidly changing world, and referred to the links that Europe is now making with such countries as China and Canada. And within Europe, too, there's a need for greater cooperation. It's not the job of the European Commission to determine the future of Europe, she pointed out. It's the national governments, parliaments, unions, employees and citizens who need to debate this issue. The press should also pay more attention to the EU. In her own country, Denmark, there are 180 journalists covering news. 'If people don't know what's happening in the EU, Europe will never have the power to make our lives better.'
Full text of the lecture 'Fighting for European values in a time of change'.
The Europa Lecture, organised by the Europa Institute at Leiden University's School of Law, was taking place for the 6th time. The lecture is an opportunity for leading figures from European politics to give their vision on the opportunities and challenges facing Europe. Previous speakers include: Petro Poroshenko, President of Ukraine; Herman Van Rompuy, former President of the European Council; Alexander Italianer, Secretary-General of the European Commission; Radosław Sikorski, former Minister of Foreign Affairs in Poland and Jonathan Mance, Lord Justice in the British Supreme Court.
(LvP/Photography: Jeroen Hiemstra)