Summer Institute on Culture, Propaganda and Intelligence in Cold War History
During the week of 27 June - 2 July, the Institute of History was host to the first SHAFR Graduate Summer Institute held outside of the United States. The theme of the Institute was Culture, Propaganda and Intelligence in Cold War History.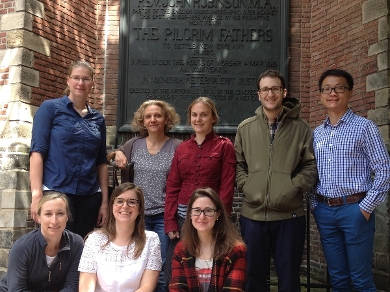 The prestigious 'Society for Historians of American Foreign Relations' (SHAFR) organizes a week-long international graduate seminar every year, and bids for hosting the event are considered on a competitive basis.
For 2016, the bid to hold it jointly with the Transatlantic Studies Association (TSA) in Leiden was successful, as part of SHAFR's wish to 'internationalise' the study of Cold War history.
The organizing team consisted of four leading Cold War historians: Ken Osgood (Colorado School of Mines), Hugh Wilford (UCL Long Beach), Simon Rofe (SOAS), and Giles Scott-Smith (Leiden University and local host). Ten PhD candidates were selected from around fifty applicants, with five chosen from North America and five selected from Europe/Rest of the World.
The week-long seminar was organised around three main components. Firstly, research sessions were held on the key themes of the seminar, covering the latest trends, key debates, and new sources related to the study of propaganda, intelligence history, and cultural relations. Secondly, the participants were asked to submit a draft version of their own work to be presented for discussion in small groups. In designing the curriculum, the organizers strongly emphasized participants' research work-in-progress, with the goal of helping participants enhance their analyses and broaden their theoretical frameworks. Lastly, professional development workshops were held covering useful issues such as recruitment and job interviews, publishing strategies, the use of ICT in teaching, and the idea of 'service' in an academic environment.
A study trip was also organized to the WWII Resistance Museum in Amsterdam, with a focus on public memory and the war, which also involved a tour of local neighbourhood sites of remembrance. In preparation for the visit, the group received a guest lecture from Leiden's Dr. Bart van der Boom on the background to the Dutch experience of World War II.
The week-long Institute was a great success. The international make-up of the group, the gender ratio, and the different stages of career all contributed to a congenial, constructive and productive atmosphere. Leiden – and particularly the facilities at the Gravensteen location – provided the ideal location for this event.
On SHAFR and TSA
SHAFR hold there annual conference at the end of June every year, alternating between Washington DC and other US cities.
TSA, in existence since 2002, holds its annual conference in early July every year. Giles Scott-Smith served as Chair from 2013-2016.