Niall Hodgins best Student Entrepreneur
Niall Hodgins, master student Biology and Science Based Business, has earned the right to call himself the best student entrepreneur in Leiden. On June 15th 2016 he won the finals of Gulliver and the associated 10,000-euro prize for his company NADES to continue developing solvents for use in preclinical testing of new medicine.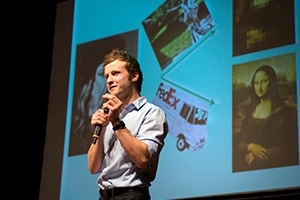 The jury was convinced by Niall's infectious and enterprising attitude. In addition, Niall was able to convince the jury of the product he is trying to put into the market. NADES Solutions develops special solvents through which complex soluble medicine can be tested in their natural environment. The prize consists of €10,000 that Niall is able to use to his own discretion in order to be able to make the most out of his start-up. This will most certainly include the advice given to him by the jury: searching for suitable additions to his team, and looking into the optimal (intellectual property) protection of his idea.
Audience prize
The audience voted for the team working on Zero. During their presentation they provided the jury with a cool glass of water thanks to their chilled coasters. This accomplishment and the enthusiasm shown during their presentation made the difference according to the audience. They win a month's use of a Volkswagen, and six months housing at HUBspot, the centre for innovation and entrepreneurship on the Langegracht, Leiden.
The other finalists
Max Green, student Life Science & Technology and Jan Zender, student Computer Science and Economics want to use their company to develop an automatic laboratory that isolates and analyses DNA.
Hans Peter Mulder and Peter Wiegman are busy developing an anti-metastasis implant. Normally medicine try to stop metastasis. This implant catches and eliminates tumour cells in the blood.
Spawn
Gonzalo Recas Pardo, Heinrich Mach, Neville Bose and John Koduthore, winners of the Venture Academy of the Leiden University The Hague campus built a social smartphone-app so games can find each other on- and offline.
More possibilities for entrepreneurship
Before the finalists pitched their startup there was an interview with prince Constantijn. Starting July 1st he will succeed Neelie Kroes as special envoy of StartupDelta and help put all Dutch startups on the map. The prince explained that during his student years he met almost no student entrepreneurs in Leiden. In the last two years this has changed dramatically – students from all over the university are starting to see possibilities to start their own business.
The Jury
The specialist jury consisted of Erik Versnel (Director of companies at Rabobank Leiden-Katwijk), Raffi Balder (Directress of HUBSpot), Simcha Jong (Professor of Science Based Business at Leiden Univerisy), Esther Lokhorst (Partner at XSkNOW and Program Manager at PortXL) and Ruben Eilander (CEO Sonsbeek & Partners).
Gulliver
The goal of Gulliver has been reached, the search for the best student entrepreneur has been completed. The winners of several different competitions have gone head to head for the title. Gulliver was born from a partnership between Lugus and Science meets Business in order to stimulate entrepreneurship among students from around Leiden.