Modern Languages (MA)
Alumni blog
Interested in studying Modern Languages at Leiden University? Find out what our alumni said about this master's programme.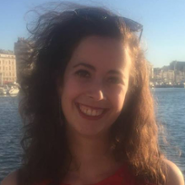 Sophie Kerstens
Graduated in French Language and Linguistics
"During my BA in French Language and Culture, I became captivated by linguistics. I loved discovering the origins of Roman languages and I was fascinated by the development of languages. That is why I was motivated to pursue a master's degree in French Language and Linguistics."
A broad variety of subjects
"Leiden University has a renowned reputation in this field and an equally prominent academic staff. The MA programme allowed me to choose from a broad variety of subjects, from business French to linguistics of Italian dialects (which I could compare with French). Moreover, I had the chance to study abroad at the University of Nantes (France). There, I could broaden the variety of my curriculum even more by choosing subjects such as neurolinguistics and second-language-apprehension."
"My education at Leiden University allowed me to study a broad variety of topics. This offered me a strong basis for continuous self-improvement, and enabled me to achieve that which gives me most satisfaction on a daily basis."
Thinking 'out of the box'
"After finishing my MA, I was admitted to the 'Eerst de Klas' traineeship (the Dutch equivalent of 'Teach First' (UK) or 'Teaching for America' (US)), a combination of intensive graduate training in education and a business leadership programme. Part of the programme consisted of solving business cases for the Philips Company. The mind-set part of 'out of the box' thinking which I gradually learned during my MA and this traineeship is something which helps me most in my job."
Inspiring the next generation
"I can inspire my students to look at the world with a broad sense of interest and ambition; they can achieve anything as long as they are driven to investigate the world they live in. So, my Leiden MA did not just offer topical expertise but it nurtured the ability to pass on my skills, ambition and curiosity to the next generation."
Inge Hindriks
Graduated in English Language and Linguistics
"During my bachelor's programme in English Language and Culture, I became interested in second language learning and teaching and I wanted to specialise myself in this field of interest. The master's programme in English Linguistics offered relevant courses with regard to my interests and provided me with an opportunity to learn from and work with excellent researchers that are specialised in this field."
"The programme is very flexible in the sense that you have a lot of freedom in choosing courses you'd like to follow. As a student you're also able to choose courses on linguistic subjects from different tracks or master's programmes, which gives you the opportunity to customise your personal schedule based on your specific interest(s)."
Traineeship
"Currently, I'm a trainee at Eerst de Klas, which means that I teach English at a secondary school three days a week. During the rest of the week I follow an intensive master teacher training programme and I take part in a leadership programme designed by the most innovative and leading organisations in the Netherlands. During my Leiden master's programme I've learned a lot about second language teaching and learning which I can put into practice every day."