Cyber Security (MSc)
About the programme
The programme consists of four phases: conceptualisation, specialisation, electives and thesis.
In the first phase you will get a general introduction into cyber security based on the bowtie model.
The first module (Introduction to Cyberspace) explores the characteristics and complexities of cyberspace. This module also covers the impact of digitalisation and interconnectivity on vital infrastructures, the resulting opportunities and the related risks.
The second module (Cyber Risk Management) offers a closer look at the technological and non-technological opportunities, risks and threats of cyberspace, digitalisation and interconnectivity, e.g., by analysing a few high-impact cyber security incidents. You will also examine the concept of "acceptable risks" and will gain an overview of potential technical and organisational preventative and repressive measures.
The third module (Legal Perspectives on Cyber Security) covers capita selecta on legal aspects.
The fourth module (Cyber Security Economics) explores the relationship between economic theory and practice and cyber security.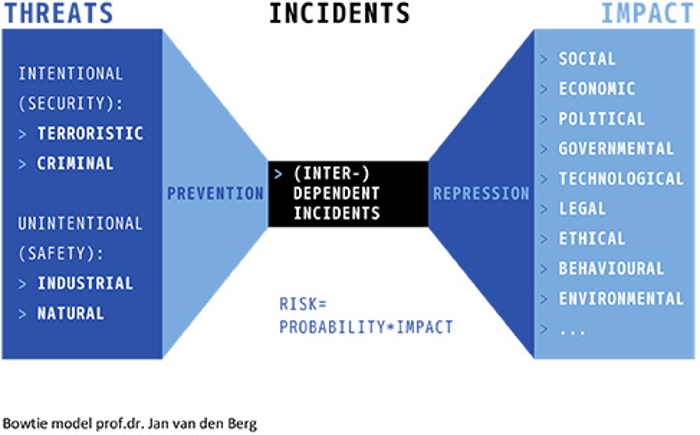 The second semester starts with the module Scientific Foundations of Cyber Security. In this module, you will gain cross-over knowledge and knowledge of different aspects of science and scientific approaches underlying cyber security.
You will then choose a specialisation: 1. the technical track or 2. the governance track.
1.Technical track
The technical track offers three specialised modules:
Measures and Interventions: covers repressive and preventative technical security techniques, such as data mining and cryptography.
ICT Systems: focuses on more detailed characteristics of ICT systems and provides you with a deeper knowledge of technical security threats ('hacking'), risks and their impact.
Case Studies in Cyber Security: you will apply what you have learned to a case study for which you design an appropriate technical security solution and implementation plan that takes non-technical perspectives into account.
2.Governance track
The governance track offers three specialised modules:
Cyber Security Governance: focuses on the governance theories related to cyber security. Who bears responsibility for cyber security and how do governments handle this? Different visions on cyber threats are also covered, as well as the implications of cyberspace on interstate and intrastate relations.
Regulating Security in Cyberspace: explores issues of regulation and national and international law, which are the result of the global presence and expansion of cyberspace. Moral and legal issues and dilemmas of interconnectivity and social media are covered, and potential intervention strategies are highlighted.
Cyber Security Management in Organisations: discusses how current developments in cyber security force organisations to review their idea of cyber security, moving from fear, insecurity and doubt, to added value. You will analyse your organisation and will be equipped with basic knowledge and skills to contribute successfully to its transformation process.
You can choose two of the four electives that are offered. Examples of electives in previous years are:
Actors & Behaviour in Cyberspace
Data Mining
Industrial Control Systems & Critical Infrastructures
Cyber Crisis Management & Communication
The number of electives can vary, depending on the number of participants and their interests and backgrounds. The subjects of the electives can also vary, depending on current issues. For some electives, admission may depend on prior education and knowledge.
The programme concludes with a thesis. You will identify a complex issue or case from practice in the field of digital security. You will then individually research a partial aspect that connects to your prior knowledge and interests, and will include your insights and reflections in the thesis.
For detailed information on the courses and curricula, see the e-Prospectus. Please note that this guide applies to the current academic year, which means that the curriculum for next year may differ slightly.
Extracurricular activities
During the whole programme 4 to 6 extra-curricular activities will be organised on specific cyber security themes (such as cyber forensics, cyber terrorism, cyber crisis communication) and current cyber security issues (for instance new developments in cybercrime, open data and big data, law enforcement). These topics are in line with the multidisciplinary character of the programme.