Psychology (BSc)
After graduation
Psychology graduates acquire skills useful in a variety of jobs. Whether helping people with mental disorders, researching the brain or deciding who should be hired at a company, psychologists can do it.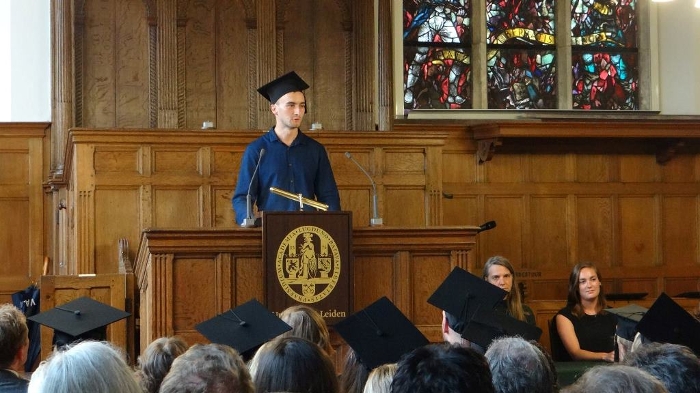 What are your skills after graduation?
Now that you finished your bachelor in psychology you know a great deal about human behavior. You will have explored mental disorders, how they come about and how to diagnose and treat them. Furthermore, you will understand processes at play in group dynamics, decision making, child development and many more. Finally, you have learnt about the functioning of the brain and how it relates to our behavior. While learning all these things, you additionally acquired useful skills like critical thinking, presenting, academic writing and applying statistics.
Career Guidance
Where you end up depends on the chosen study direction, your own interests and skills. During the whole second year, in the course Perspective on Career Planning, you will gain skills that prepare you for your professional life. You will look closer into what to expect from your future work environment. On the other hand you will discover what the job market expects of you, for example through interviews with psychologists and alumni panels. This course will really help you to make decisions during your studies, like what electives fit your future best.
The Student Career Service of the Faculty of Social and Behavioural Sciences can help you formulate the best study and career path for you. They offer workshops on topics as career prospects, writing job applications, job interviews and assessments. Also in one-on-one assistance, they help you to figure out what you want and what suits
you. This helps you to make smart decisions for your future career, such as a study abroad period, an internship, volunteer work or a relevant student job. Read more about Career Guidance. Fortunately, Leiden life offers many opportunities for you to grow and develop!
Suzanne van Dijk
Neuropsychologist
'After graduating I started working as a neuropsychologist as part of a multidisciplinary team at the geriatrics department of Haaglanden Medisch Centrum. My job consists of conducting neuropsychological assessments to detect and diagnose different disorders, such as different types of the neurodegenerative disorder dementia. Besides this, I'm responsible for the daily supervision of master students during their clinical internship at the hospital.'
'Each day I go to work with great pleasure. The great variety of patients and pathologies as well as the close cooperation with medical specialists and the supervision of interns makes this a perfect place to further develop my diagnostic skills and my (medical) knowledge.

The study has provided me with a good foundation for my current work as a neuropsychologist. By combining theoretical neuroscience and the clinical application of it, I've got a broad knowledge of cognitive, emotional and behavioural consequences of brain dysfunction. Moreover, lecturers who are working in different work fields shared their practical experiences to give some insight in the day-to-day work of a neuropsychologist which motivated me even more to start my own career in health care.'
Koen Coopmans
Economic & Consumer Psychologist
'In the summer of 2016 I graduated from the Master's specialisation Economic & Consumer Psychology at the University of Leiden. This programme centres around the predictability of human behaviour when they are a consumer and how to respond to these behaviours. At this moment I am working at a media company in Amsterdam. My job is to point out what the best way is to reach the consumer, at what specific moment and with what specific channel.'
'The theoretical and psychological part we were taught during our Master's programme play a big role in this task. How do you deliver a message, that's Psychology, right?

During the Master's programme I was surprised to notice how up-to-date the information we were discussing was (sometimes it was published in the same year in which I took the course). This means you are being trained to be a very topical specialist. You learn things that are not known to the general public, which is a big plus!'
Irene Chan
Applied Cognitive Psychologist

'I graduated in June and am now an employee at Exact Business Software with a starters position as a supporter. This company develops software so corporations can keep track of their orders, products and stock. Next year I will be able to work as a User Experience (UX) researcher in the company. Due to my master's degree in Applied Cognitive Psychology, I am well prepared to conduct usability tests. The master was challenging and broadened my horizon.'
Your career
Our bachelor's programme prepares you for a master in Psychology. We strongly recommend you to finish a master's programme, so you can start working as a psychologist. Graduates of our programme have been accepted to top universities in Europe and abroad.
Read more about the 14 Master's specialisations or read more about prospects on the jobmarket.
How can we help you make the transition to the world of work?
Leiden University helps you make your transition to the employment market as smooth as possible. It offers students a range of services in this area.
Click on each service to read how exactly it can help you.
In the LU Career Zone you will find further information about positions and employers where graduates have found employment. As a student, you can also do various tests - such as the career choice test and the competencies test - to discover what would suit you best.
You can turn to the Career Service if you have any questions or want advice about choices along your study path or how best to prepare for your future. In addition, the Career Service organizes various lectures and information markets, where you can have someone check your CV or LinkedIn-profile, for instance, or can have a LinkedIn photo taken.
The Mentor Network can help link you up with alumni who are working in the work environment that interests you and who can give you tips and advice.
The Psychology study association Labyrint organizes career days where there are various lectures and workshops to help you get a better idea of how the labour market works.
Perspective on Career Planning is a course given in the second year of the Bachelor's programme. The course focuses on career prospects and orientation in different fields of work. What path may a career take and what opportunities are there for you in your chosen field of work? In addition, the course focuses on your role in your chosen field: what are you good at, and what do you want to achieve?