International Relations and Organisations (BSc)
Application, selection and placement
Our selection and placement procedure starts with your application (i.e. prior to 15 January of the calendar year in which you intend to start) and ends with—hopefully—an invitation to you to enrol as an IRO student. This page tells you all you need to know about the steps to be taken in between.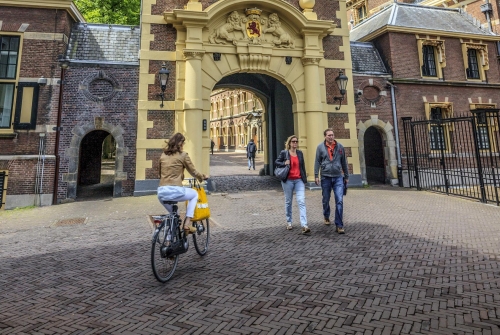 Applications for 2024-2025 open in October 2023
Sorry, applications for the coming academic year (starting in September 2023) are closed.
As of 1 October 2023 you can register for 2024-2025.
Procedure for 2024-2025 will be announced soon
The procedures and deadlines mentioned below were valid for applications for the academic year 2023-2024.
In Spring 2023 we will update this section.
Application, selection and placement: overview
Application, selection and placement: step by step
Early application deadline
Applications for BSc Political Science: International Relations and Organisations
open on 1 October 2022 and
close on 15 January 2023 (23:59 CET).
Check the entry requirements
Make sure you will be able to meet the entry requirements when the programme starts:
You can participate in the selection and placement procedure if you expect to graduate from high school prior to the start of the programme. In that case, your pre-graduation class grade averages will be used in the selection procedure, and eventual placement will be conditional upon you receiving the required diploma.
Visa and/or residence permit needed?
Familiarise yourself with the procedure for obtaining visa and/or a residence permit, if applicable to your situation.
Studielink
Register yourself for the IRO programme in Studielink. All steps are outlined here:
After you have completed your application in Studielink, you will receive an e-mail message from the student administration system uSis. This message also contains your login credentials. The next step in the selection and placement procedure is to submit your grade average in uSis. Which procedure you have to follow, depends on your previous education, as outlined below:
Dutch diploma
Dutch pre-university education (VWO), University of Applied Sciences (HBO), propaedeutic year of University (WO):
Upload your grade average, following these instructions (in Dutch).
Please make sure that your grade average documentation is officially certified, or at least contains a date, a stamp and a signature of an authorised employee of the issuing school.
Non-Dutch diploma
Non-Dutch and international diploma's (IB and EB), High School diploma, VWO diploma Dutch Caribbean:
Continue your application and upload your grade average, following these instructions (in English).
Please make sure to prepare the following documentation: passport or ID, Curriculum Vitae, diploma's and transcripts of grades.
Transcripts must be certified by your educational institution (official stamp and signature for authentication).
Deadline for submitting grade average: 31 January 2023
Start collecting the required documentation in time and make sure not to miss the upload deadline.
Colloquium doctum
For information on the required documents and colloquium doctum procedure please go to Leiden University's general admissions page:
You will receive instructions regarding the content and form of the motivation letter by email on 1 February 2023, around 18:00 CET. These instructions will also explain how and where to hand in the letter. Please read these instructions carefully before starting your letter.
Please note that you can submit your motivation letter only in the period from 1 February 2023 to 8 February 2023, 23:59 CET. Outside this period, letters cannot be accepted.
Study the instructions for the online assessment. You will receive these instructions by e-mail on 1 February 2023, around 18:00 CET.
Familiarise yourself with the study materials provided. Please note that these materials will not be available during the assessment.
Do the online assessment.
Please note that the assessment is open only
from 17 February 2023, 13:00 CET
to 18 February 2023, 13:00 CET.
Outside this period, you cannot do the assessment.
On 15 April 2023 you will receive your ranking number from Studielink by e-mail. Also, you will receive instructions for accepting or declining the place offered to you. Furthermore, you will receive a letter explaining the 'score' determining your ranking in the selection and placement procedure.
Initially, places are offered to candidates with a ranking number between 1 and 600. This does not mean that candidates with a higher ranking number will fall by the wayside. After all, offers must be accepted. And it may happen that candidates ultimately fail to comply with the entry requirements. When a place becomes vacant, it is offered to the candidate with the next ranking number.
If you are offered a place, you can accept it in Studielink.
Note, there is also a strict deadline for accepting offered places.
From the moment you receive the offer, you have a maximum of two weeks to accept the offer (14 x 24 hours, to be precise).
The current status of the selection and placement procedure, indicating which ranking numbers have been offered a place, can be found here:
› Application and admission: current status selection and placement procedure