International Relations and Organisations (BSc)
Application and admission
The Leiden University Political Science bachelor's programme enjoys a high popularity. To assure the quality of education, the number of students it admits is limited. This is known as a 'numerus fixus'. If there are more applications than this 'numerus fixus', a selection and placement procedure will determine which applicants will be offered a place in the programme. This means that we cannot guarantee all applicants enrollment, even if they meet all entry requirements. Furthermore, applicants must register their application by an earlier deadline (15 January) and meet several strict deadlines.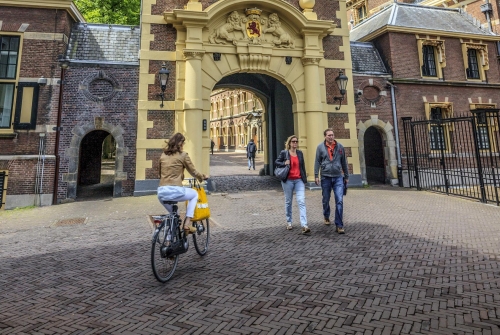 Sorry, applications for the coming academic year (starting in September 2023) are closed.
As of 1 October 2023 you can register for 2024-2025.
The procedures and deadlines mentioned below were valid for applications for the academic year 2023-2024.
In Spring 2023 we will update this section.
Numerus fixus: general
For specific programmes, universities in the Netherlands set a quota for the number of students who can be allocated a place. This quota is called numerus fixus. In practice, it means that you are not assured of a place if you apply for such a numerus fixus programme. If there are more applications than available places, a ranking list of applications will be established through a selection procedure. This ranking determines which applicants will be offered one of the available places first. If a place is not accepted within the set term, it will be offered to the next applicant on the ranking list. In other words: the higher your ranking, the greater your chance of being offered a place and the sooner you will be offered one of the available places. The placement procedure runs from 15 April to 31 August.
Numerus fixus: Leiden University
Leiden University maintains a numerus fixus for programmes that are very popular and would otherwise be oversubscribed. Limiting student numbers is one of the ways in which Leiden University guarantees its students the best possible education.
A set of rules applies to all numerus fixus programmes taught in the Netherlands and at Leiden University (deadlines, number of numerus fixus programmes you can apply for per academic year, how often you can apply for a particular numerus fixus programme, etc.). Please make sure to familiarise yourself with these general rules:
› Programmes with limited places—numerus fixus
Numerus fixus: Political Science
Leiden University's BSc programme in Political Science usually receive far more applications than it can accommodate. Therefore, a numerus fixus applies to this programme. It has been set at a total of 600 students for all the Political Science BSc programme tracks combined: the BSc Politicologie, the specialisation Internationale Politiek (both taught in Leiden, partially in Dutch) and the specialisation International Relations and Organisations (based in The Hague and fully English-taught).
Numerus fixus: selection criteria
The selection procedure for Political Science is based on three criteria:
the average grades of your previous education/GPA (40% of the ranking score),
a motivation letter (40% of the ranking score), and
your score in an online assessment (20% of the ranking score).
Numerus fixus: details
You can find all you need to know about the selection and placement procedure on this website. Please make sure to familiarise yourself with the
admission requirements (are you eligible for a place in the programme?);
deadlines (when to submit what?);
required documents (what does Leiden University need in order to process my application?)'; and the
selection and placement procedure (how to plan my application and the next steps?).
Studielink: what is it?
Studielink is the online portal for arranging enrolment at institutions of higher education in the Netherlands.
Studielink: getting started
Choose your language in the upper right corner of the screen.
Login.
While setting up your Studielink account, please make sure to use an e-mail account that you regularly access and check.
Dutch applicants need a DigiD for their Studielink account. Keep in mind that it takes at least five work days to process a DigiD application.
Studielink: setting the search parameters
In step 2, Choose a study programme, make sure to select the following options:
Educational institution: Leiden University
Type of study programme: WO Bachelor
Academic load: Full-time
Then, in the search bar (Fill in study programme or location), type
political science and
enter
Studielink: selecting IRO
From the Results that appear to the right of the search bar, make sure to select this option:
Political Science, Full-time, numerus fixus programme
WO Bachelor, Leiden University
Location: 's-GRAVENHAGE' ('s-Gravenhage is the formal Dutch name for The Hague)
Studielink: confirming your selection
The following screen shows that you are registering for the IRO programme:
Verify the start date, type of enrolment and start as fields.
Click Next › and answer the remaining questions.
A ranking number higher than 600 may also give you access to the programme
On 15 April, all applicants in the selection and placement procedure receive a ranking number. The 600 available places in the bachelor programme tracks Politicologie, Internationale Politiek and International Relations and Organisations are then initially offered to the participants with the top ranking numbers.
Each place that is not accepted within two weeks, is automatically offered to the next highest applicant. Also, when applicants withdraw from the selection and placement procedure, the free spot is directly offered to the next candidate on the ranking list. Places are offered (and have to be accepted) via Studielink until all available places have been accepted, which may continue until very shortly before the actual start of the programme.
In practice, this means that
ranking numbers higher than 600 may very well give access to the programme;
it is difficult to predict how many places will be freed up and reallocated from one applicant to another;
you will have to assess yourself whether and how long you would like to wait for a place offer, if you haven't received one yet
Below you can see which ranking number has been received an offer for placement. This information is updated bi-weekly. Please note: Because some applicants on the waiting withdraw their application, these figures present a somewhat distorted picture.
Placement updates:
15 August 2022: the selection and placement procedure for the 2022-2023 academic year has been completed. Thank you for your applications!
Preparing, submitting, and finalising your application
In the following sections, we will take you through the preparation, submission, and—if applicable—the finalisation of your application. Furthermore, we will provide further details about the selection and placement procedure. Lastly, you can inform yourself as to the tuition fee.
These practical matters are important if you want to apply for the BSc Political Science: International Relations and Organisations: