Humans of Humanities
In the Humans of Humanities series, we will do a portrait of one of our researchers, staff members or students, every other week.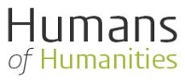 These portraits give you a look behind the scenes: Who are we and what do we do? That's how we give our faculty a face and tell the stories of those people who form the Faculty of Humanities.
For questions and/or suggestions, please contact our news editors.
'My only condition was going on exchange to Leiden' - Márton Biró, alumnus Dutch Studies
He studied Dutch Studies, did Dutch literature research for his internship, and worked at HEMA: Hungarian Márton Biró (26) came to the Netherlands on exchange and decided to stay.
Earlier interviews