Footballer and journalist Nikki IJzerman: 'I want to dive into the background of the news'
Give Nikki IJzerman a football and she's happy. The midfielder was named Player of the Year by ADO Den Haag last season, as well as obtaining her master's degree in Journalism and New Media.
Why do you enjoy football so much?
'As a child, I was always doing keep-ups and kicking a ball against a wall. So when I was seven and could choose a sport, football was my obvious choice. I still really enjoy the game. It's great when you're actually playing on the pitch, and there's also the social contact with the other players. Our team here is really close, which makes it even more enjoyable.'
And what do you like about journalism?
'I already loved writing in high school. I also liked doing written assignments much more than learning for a test. A bachelor's in Journalism from an applied sciences university wasn't exactly what I wanted, but at the back of my mind I always knew that I liked the profession. After doing a bachelor's in History, I came via that route to Journalism and New Media at Leiden.'
So do you want to be a football journalist?
'Quite honestly? No. Football journalism is mainly about reporting on matches and doing short interviews: the fast news. I find it more interesting to write background stories. For example, I'd love to work in a documentary team or at a platform like Follow the Money, but that's all for later. At the moment, I'm still doing an internship at Den Haag Centraal, the weekly newspaper. My football commitments last year made it difficult to find an internship at a newspaper. This way I can still gain some editorial experience.'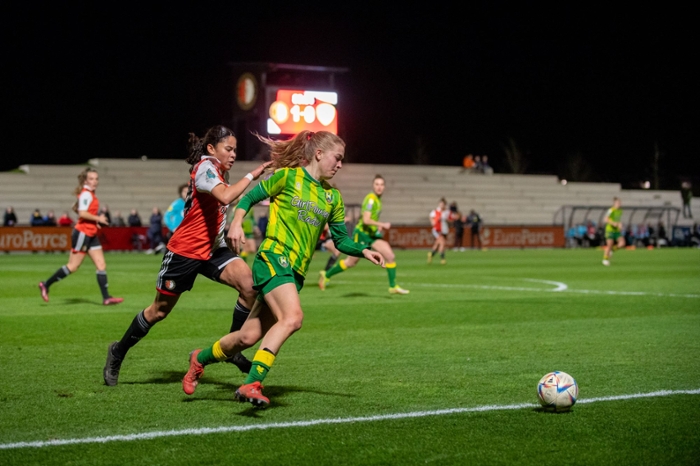 What kind of student were you?
'I had top-level sport status, so there was a lot of help with my schedule, such as being allowed to switch tutorials or hand in assignments later. I didn't do that very often, though. When I do something, I go for it one hundred per cent. I felt it was important to progress through my studies at a good speed, so I always studied very seriously. My lecturers helped me a lot with this. For example, they recorded the lectures for me, even when they didn't actually need to.'
What was your favourite place to study?
'I found it motivating to be where other people were also studying, which meant the library in The Hague was great. I also occasionally went to the Bookstor Cafe. That's a bookshop-café in The Hague where you can study and also have a chat or a coffee. But that's not quite so good if you have to keep an eye on your spending. Fortunately, I could always study well at home too.'
What do you do to relax?
'I like to meet up with friends, go for a coffee somewhere. I sometimes play the guitar a bit and I also enjoy reading.'
Do you have a tip for a good book?
'Having a quick look on the bookshelf... I've just read If We Were Villains by M.L. Rio. I can really recommend that.'