Maxine David: 'Have realistic expectations of what you can do in these difficult times'
Maxine David is a lecturer in European Politics in the Institute for History and is a busy bee when it comes to teaching. When countries started locking down due to the corona virus, she was in the United States. After some difficulty getting a flight back to her home country, the United Kingdom, she has been working from there since then.
No educator wants to feel unprepared
'The switch to online teaching was abrupt - one week is simply not enough to transform your teaching so fundamentally - but luckily I had finished one course in block one so had two, instead of three, courses to adapt. Even so, I have felt at times like a champion high jumper suddenly required to compete in the pole vault at the Olympics! No educator wants to feel they are not properly prepared but how could we be at such short notice? What made it all the easier was that my students were phenomenally understanding and just got on with things.'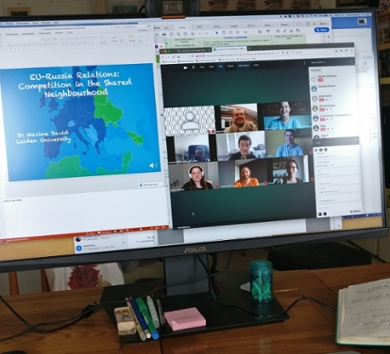 Learning in different circumstances
'In terms of qualities that were most required for remote teaching, flexibility has been uppermost, closely followed by empathy. All the students are learning in different circumstances. I had students recalled to or advised to return to their home countries, all operating quite different policies or no policy at all in terms of quarantine. One student was quarantined for a month, was not able to follow classes and could only download big files at night. Others were quarantined for two or three weeks and had limited online access. Many, including those still in the Netherlands, have had difficulty attending synchronous classes, whether for technical or other reasons, e.g. caring responsibilities. And, of course, all were concerned about the health of relatives or friends; some preoccupied by the terrible developments in their home countries, especially my Italian and Spanish students.'
Keeping on track using a range of methods
'In order to ensure students' learning was still supported, I've applied a range of methods whereby all students could contribute in some way and not miss out too much in terms of the exchange of information and insights. I have delivered asynchronous lectures via voiced over PowerPoints and then used synchronous classes so students could talk about the issues raised in the lecture and the readings, recording them where appropriate for those who could not "make it to class". I sometimes used discussion threads on the Virtual Learning Environment and students sometimes worked in small groups beforehand to mimic the flipped classrooms I like to employ in my "normal", that is, offline, teaching. But I also consulted students about what they could do and how different formats were working for them. You just can't teach well without thinking about the context in which students are learning.'
Don't feel bad about what you cannot do
'A typical day has seen me running a class on Countering Disinformation in the Covid-19 Context; talking to a student about a draft chapter for her thesis; processing admissions; having a mid-morning call with colleagues to discuss our team-taught course; attending a webinar about the implications of Covid-19 for transatlantic relations; and trying to squeeze in some research.
My one professional sadness is that I had to stop taking my Dutch classes. This was just beyond me with all else I had to do. It felt like a failure until I remembered all I had said to my students: do what you can and don't feel bad about what you cannot; have realistic expectations of what you can do in these difficult times; be kind to yourself.'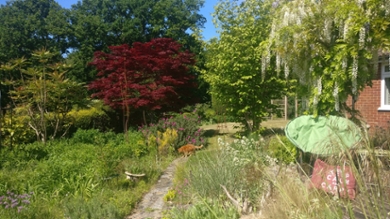 Creating something has been restorative
It's a very busy and stressful time. Part of my job is to stay on top of the news at home and abroad and that has been saddening and dispiriting. So, I have made time to plant vegetable seeds, and to care for my garden. I've even been baking - much to my neighbours' delight. Creating something, whether from seeds to seedlings or ingredients to cake, has been restorative. If I have a message for anyone in the Humanities Faculty, it is to make time for whatever your equivalent is of my garden and baking.'