Human Osteology and Funeral Archaeology
Education
The Faculty of Archaeology at Leiden University offers education in Human Osteoarchaeology. We offer a second-year Bachelor course in Human Osteoarchaeology and an extensive one-year track in the Master's in Archaeological Science specialisation, resulting in a Master of Science degree after completion.
The skeleton as a source of information
Human skeletal remains provide a unique method of reconstructing past lifeways and constitute the most direct evidence of human history. Osteoarchaeology (the study of archaeological human remains), is a dynamic, interdisciplinary field that draws on a variety of approaches, ranging from macroscopical examination of the whole skeleton to the microscopical and chemical analysis of samples. Major and minor events such as demographic shifts, environmental changes, migrations, numerous diseases, violence and conflicts are all likely to leave traces on the skeleton.
Human osteoarchaeological research aims to improve our knowledge about the lifeways of past peoples in order to understand who we are as a species, and how we got to be this way. At Leiden University, students will take part in lectures and practical work with real archaeological skeletal assemblages. Consequently, they will learn to reliably determine a skeleton's age-at-death, sex, stature, disease, and activity patterns.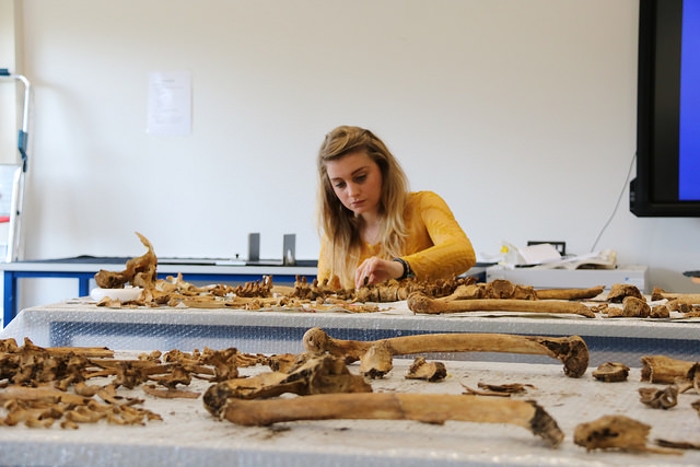 Master's in Archaeological Science
During the Master's in Archaeological Science's Human Osteoarchaeology track, students will learn about sub-fields within the field of Human Osteoarchaeology, including forensic archaeology, growth and development, taphonomy, and skeletal and dental metric and non-metric traits. Much emphasis is put on the sub-field of paleopathology, the diagnosis of diseases and abnormalities from the bones and teeth. These topics are addressed both in lectures and in hands-on laboratory settings. MSc students design their thesis research in collaboration with staff members and are expected to collect new data on a question of relevance for the field. Skeletal collections housed at the laboratory can be used, as can other sites/collections if permission and access can be granted in a timely fashion.