Redactie Common Market Law Review kritisch over Brexit-referendumcampagne
Verklaring van de redactie van de Common Market Law Review over de Brexit-referendumcampagne:
It is the responsibility of legal scholars to observe and promote rational, evidence-based scientific analysis. We have followed the UK's debate on its membership of the European Union carefully. As the campaign has unfolded, we have been dismayed by the manner in which leading figures in the Leave campaign have presented inaccurate and misleading information which is not supported by reliable evidence and does not stand up to objective scrutiny. Such reprehensible behaviour now extends to every major issue raised in the UK's referendum debate: the sovereignty of the UK as a member of the European Union, the decision making powers of the EU institutions, the contribution of the UK to the EU's finances, trade relations within and beyond the Single Market, the legal framework for the free movement of persons and of immigration more generally etc. For example, prominent Leave campaigners have repeatedly claimed that EU legislation is undemocratic because it is adopted by unelected bureaucrats in the European Commission; in fact, EU legislation is made by the elected governments of the Member States sitting within the Council – acting (in the vast majority of situations) in agreement with the directly elected MEPs of the European Parliament. Similarly, leading Leave campaigners have insisted that the UK cannot prevent Turkish accession to the EU, bringing with it a massive wave of Turkish immigration; yet it is beyond any doubt that the accession of a new country requires the unanimous agreement of the 28 Member States, several of which may well hold a national referendum of their own to decide whether to agree to Turkish membership (should the question ever actually arise in the future). But those are just two from among numerous examples. By normalising systematic dishonesty as a tool of political campaigning, those responsible within the Leave campaign are doing a grave disservice to the British people – and indeed to the very quality of our democracy, not just in the United Kingdom, but elsewhere in Europe and beyond.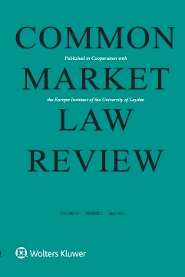 Redactie Common Market Law Review
De Common Market Law Review is gevestigd in het Europa Instituut van de Universiteit Leiden; de redactie is samengesteld uit vooraanstaande internationale experts op het gebied van EU-recht, en bestaat uit: Thomas Ackermann; Loïc Azoulai; Marise Cremona; Michael Dougan; Christophe Hillion; Niamh Nic Shuibhne; Wulf-Henning Roth; Ben Smulders; Stefaan van den Bogaert. Managing Editor: Alison McDonnell.