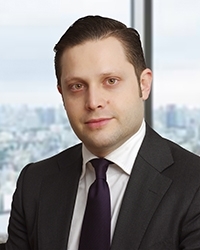 Pavlos Masouros
Universitair docent
Naam

Mr. P. Masouros

Telefoon

E-mail
Voor meer informatie: zie de Engelstalige profielpagina van Pavlos Masouros.
Universitair docent
Faculteit Rechtsgeleerdheid
Instituut voor Publiekrecht
Europees Recht
Pavlos E. Masouros (20 september 2016), NPL portfolio cleanup could open the gates of short-termism - Non-performing Loans (NPL) Management in European banking and the risk of short-termism. SHIFT TO - Long-term Investing. Amsterdam, The Netherlands: Kempen Capital Management [blog entry].
Pavlos E. Masouros (2016), Actions and Claims in Companies Limited by Shares nr. 1. Athens, Greece: NOMIKI BIBLIOTHIKI.
Pavlos E. Masouros (2016), The Relationship Between the European Banking Union and the European Capital Markets Union. In: Libera Università Internazionale degli Studi Sociali "Guido Carli" – B&C Conference. Roma: LUISS "Guido Carli".
Masouros P.E. (2014), Corporate Governance and the Great Recession: An Alternative Explanation for Germany's Success in the Post-2008 World, The Dovenschmidt Quarterly 2014(1).
Pavlos E. Masouros (2014), The Asymmetric Design of the Eurozone and What To Do About It (Cleveringa Lezing - Athens) (Lezing).
Masouros P.E. (18 september 2012), Corporate Law and Economic Stagnation: How Shareholder value and Short-termism Contribute to the Decline of the Western Economics (Dissertatie, Faculty of Law, Leiden Univeristy). Den Haag: Eleven International Publishing. Promotor(en): Bartman S.M., Varoufakis Y.
Pavlos E. Masouros (2012), Corporate Governance Lessons for the Sovereign Debt Crisis: Sovereign Equity, European Company Law 9(5).
Masouros P.E. (2010), Is the EU Taking Shareholder Rights Seriously?: An Essay on the Impotence of Shareholdership in Corporate Europe, European Company Law 7(5): 195-203.
Advocatenkantoor
Visiting Professor