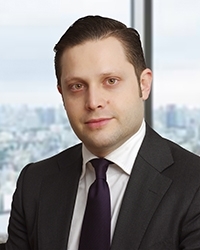 Pavlos Masouros
Universitair docent
Naam

Mr. P. Masouros

Telefoon

E-mail
Voor meer informatie: zie de Engelstalige profielpagina van Pavlos Masouros.
Universitair docent
Faculteit Rechtsgeleerdheid
Instituut voor Publiekrecht
Europees Recht
Masouros P.E. (20 september 2016), NPL portfolio cleanup could open the gates of short-termism - Non-performing Loans (NPL) Management in European banking and the risk of short-termism. SHIFT TO - Long-term Investing. Amsterdam, The Netherlands: Kempen Capital Management [blog entry].
Masouros P.E. (2016), Actions and Claims in Companies Limited by Shares nr. 1. Athens, Greece: NOMIKI BIBLIOTHIKI.
Masouros P.E. (2016), The Relationship Between the European Banking Union and the European Capital Markets Union. In: Libera Università Internazionale degli Studi Sociali "Guido Carli" – B&C Conference. Roma: LUISS "Guido Carli".
Masouros P.E. (2014), Corporate Governance and the Great Recession: An Alternative Explanation for Germany's Success in the Post-2008 World, The Dovenschmidt Quarterly 2014(1).
Masouros P.E. (2014), The Asymmetric Design of the Eurozone and What To Do About It (Cleveringa Lezing - Athens) (Lezing).
Masouros P.E. (18 september 2012), Corporate Law and Economic Stagnation: How Shareholder value and Short-termism Contribute to the Decline of the Western Economics (Dissertatie, Faculty of Law, Leiden Univeristy). Den Haag: Eleven International Publishing. Promotor(en): Bartman S.M., Varoufakis Y.
Masouros P.E. (2012), Corporate Governance Lessons for the Sovereign Debt Crisis: Sovereign Equity, European Company Law 9(5): 243-244.
Masouros P.E. (2010), Is the EU Taking Shareholder Rights Seriously?: An Essay on the Impotence of Shareholdership in Corporate Europe, European Company Law 7(5): 195-203.
Advocatenkantoor
Visiting Professor