Meet your colleagues
The best way of finding out what it's like to work at the Faculty of Science is to ask the people who're already doing it.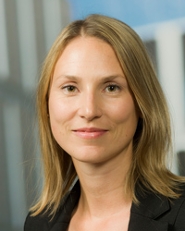 Daniela Kraft – Associate professor (LION): "The ultimate dream is that we can use flexible structures to build a little robot."
"I study self-assembly in biological and soft matter systems. Soft matter is exactly what it sounds like, materials that are quite literally soft, making them easy to deform. A key feature of soft matter molecules is their size. They're "intermediate" in size meaning they're larger than individual atoms but smaller than grains of sand. Crucially, soft matter molecules can self organize themselves into highly complex structures such as the proteins, polymers, and enzymes that are the building blocks of life. We try to understand and emulate how soft matter particles are able to form such intricate structures. We look at what the spheres do, how they interact and come together to form functional structures, and it gives us new insights into the biological system. The ultimate dream is that we can use flexible structures to build a little robot. We could send these little robots to specific points in the body and have them deliver drugs or repair cells. It sounds really far away, and a complex robot is far away, but we have motor particles, we have these hinges, and we can put them together. So the simplest way of doing it is actually reasonably within reach."

"Aside from my research, I believe it's important to be a role model for my students. When I was doing my PhD, I used to think that I was so dedicated to physics that I didn't need female role models. But when I saw very successful women in physics taking the path to become a professor it was very inspirational to see and I watched them very closely, much more closely than I watched the men. I think being a woman myself in the department is already making a difference here."
Joost Willemse - Projectmanager (IBL): "No two days are ever the same"
"When I come in in the morning, I know where I'm going to start, but I never know where I'm going to end up. In the Microscopy Unit we have about 26 different microscopes. It's my goal to help scientists understand what a microscope can do, what microscope would best suit their needs, and how to analyze their microscopy data. When people come to me and say they want to use a certain microscope, the first thing I ask is why. I need to understand what they want to use it for to determine what the best approach is for their specific research question. I like it when someone comes to me with a challenge, forcing me to come up with a creative solution that will work for them. There are just so many creative people here. As soon as you have an idea, you can start talking to somebody who's involved in that and they can give you feedback and help you develop it. That's the real advantage of being in the university environment. It doesn't matter whether you're doing physics, biology, or chemistry, there's always a problem, and nobody knows the solution, so you have to figure it out together."
Felix Smits - Reseacher Quantum Matter en Optics (LION): "I actually enjoy everything about my work: from devising concepts to performing calculations and coming up with inventions"
As a plasma physicist, I focus on plasmas that are inherently stable, such as fire, the sun, and fluorescent tubes. We want to use these plasmas to enable the chemical industry to run on electricity instead of on fuel, and to convert CO2 to fuel. The Faculty of Science is the ideal place for this type of
research as we can create isolated plasmas here. Even if this is not the case and nature takes a different track to your train of thought. I've had a good day when a sum is complete or a design is ready and I've achieved the goals that I set. I work at LION as this is where work is carried out on fundamental quantum mechanics. My knowledge was a perfect match for what they needed for their plasma setup. There's a great atmosphere, and everyone is very helpful. We tend to do our work on our own but we celebrate important moments... with cake!