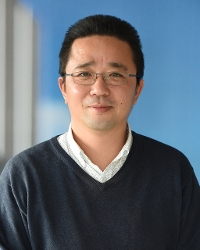 Young Hae Choi
Associate professor
Name

Dr. Y.H. Choi

Telephone

E-mail

ORCID iD
Currently, I have four research lines in which I am applying metabolomics and natural products chemistry skills: 1) Untargeted and targeted plant metabolomics and building a database of plants metabolome 2) Plant-microbial chemical interaction for symbiotic cooperation against plant pathogens 3) Investigation of the possibility of the existence of natural deep eutectic solvents in plant cells, organs or extracellular fluids 4) Development of natural drug formulations based on natural deep eutectic solvents and 
development of antibiotics and antifungal reagents targeting synergisms or potentiation 

I received my PhD degree from the College of Pharmacy, Seoul National University (Seoul, Korea) in 2000. After working for one year in a company, GreenTek 21, also in Seoul, I came to Division of Pharmacognosy, Section Metabolomics, Institute of Biology, Leiden University as a post-doc in 2002, (Seoul, Korea). In 2009 I became Assistant Professor and Associate Professor in 2014.
I have a long-standing interest in natural products and my current research topics are connected to fundamental scientific questions related to them.
What kind of compounds are present in living organisms and how can such a huge number of metabolites be identified?
Why do organisms produce these diverse metabolites?
Which are the roles of these natural compounds in organisms
How can we take advantage of all this wealth of resources provided by Nature to solve life science problems and develop useful products?
Associate professor
Science
Instituut Biologie Leiden
IBL Plant Sciences
Work address
Sylvius
Sylviusweg 72
2333 BE Leiden
Room number 3.5.06
Contact
No relevant ancillary activities