Research project
Metabolic Characterization of Marine Sponge
Which metabolites of sponge are influenced by individual environmental or biological factors?
Duration

2008 - 2020

Contact

Funding

COLCIENCIAS' Scholarship Program No. 728.

Ministry of Land, Transport and Maritime Affairs, Korea (Project no.: PM56091)

Partners
Among all marine organisms that have been studied, marine sponges are the biggest source of new and bioactive compounds. With more than 200 new compounds being isolated every year.
However, the development of new drugs is rather slow compared with the number of compounds reported annually. The first problem with using sponges as a source of compounds is the low concentrations in which these are produced. The second problem is the lack of knowledge about how environmental and ecologic factors affect the production of active compounds.
We presently study samples of different individuals of the marine sponge from the genus Xestospongia sp. differing in their ages and spatial distribution. Using metabolomics as tool to compare metabolic production, environmental factors and biologic activity. The main aim is to gain insight into the relation between the production of active compounds and environmental and biologic conditions.
Marine sponge metabolites
Marines sponge secondary metabolites had shown a wide range of biologic activity against different diseases. Besides they have and incredible diverse molecular structure.
Metabolomic approach
NMR spectroscopy and Mass spectrometry can provide general overview of metabolites present in sponge samples including alkaloids, quinones and sterols.

Multivariate data analysis helps to understand the metabolites changes related with age, location and species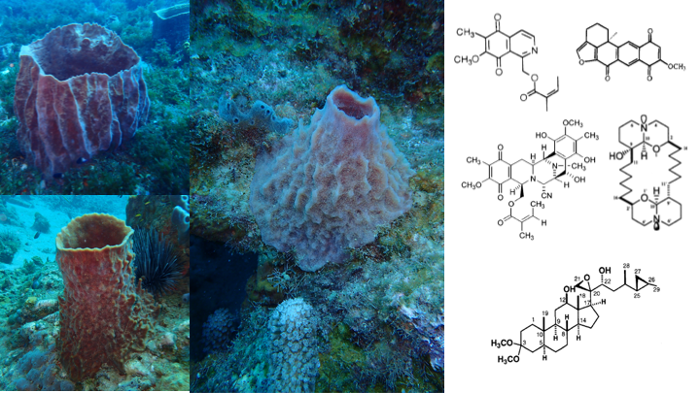 C

hemical Characterization of Marine Organisms Using a Metabolomic Approach In Marine Biotechnology: From beach to bedside (ed by Bill J. Baker), pp. 23-42, K. Ali, R. Verpporte, E. G. Wilson, Y. H. Choi, CRC Press, 2015, Boca Raton FL, USA.

Identification of bioactive metabolites against adenosine A1 receptor using NMR-based Metabolomics. K. Ali, M. Iqbal, N. D. Yuliana, Y. -J Lee, S. Park, S. Han, J. –W. Lee, H. –S. Lee, R. Verpoorte, Y. H. Choi. Metabolomics, 9, 778-785, 2013
Connection with other research