Research project
Evaluation of synergistic effects of Chinese herbal medicine and natural compounds on cancers
What are the biological effects of Chinese herbal medicine in regulation of cancer cell metastasis?
Partners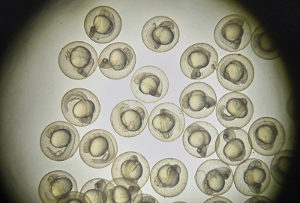 Metastasis causes most deaths of cancer patients, including breast cancer, lever cancer, uveal melanoma etc. Preventive and therapeutic treatment of metastasis is still a huge challenge, with unmet medicinal needs. The regulation of the development of metastases remains complicated and mechanisms are often unknown; new mechanistic insights need to be established to be able to design effective treatments. Therefore, screening and pharmacological drug research on a systems level for treatment of tumor metastasis is an urgent need. In This project, the screening of Chinese medicine at in vitro and in vivo levels will be conducted.
Beside unique cancer cell based investigations, Zebrafish has been widely used as an important animal model in biomedical research including tumor transplant studies all over the world, owing to its advantages such as the ease of experimentation, drug administration and its short life-cycle. In a previous study in IBL, the xenograft zebrafish model has been well established using human breast epithelial cancer cells and ocular melanoma cells, following examination on cell invasion and micro-metastasis formation. Luciferase experiments, microscopy with fluorescent cell labelling, as well as immune-histochemical analysis was used for evaluating the model. C. elegans is another interesting model system which may be complementary in studying the regulation of gene expression. Further pharmacological and screening research of Chinese herbal medicine in the inhibition of tumor metastasis based on such models needs to be further developed. Measure of natural compounds derived from Chinese herbal medicine on their effects on cancer cells and in vivo model will be conducted.