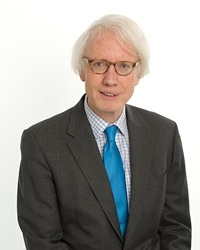 Tom Ottervanger
Professor emeritus European Law and Dutch Competition Law
Name

Prof.mr. T.R. Ottervanger

Telephone

E-mail
Tom Ottervanger is part-time professor of European Law and Competition Law at the University of Leiden.
Tom Ottervanger is also director/founder of the Leiden Centre for East African Community Law (LEAC) and visiting Professor of Competition Law at the LUISS University in Rome. His inaugural lecture (Dutch version and English version) was held in 2010 and was titled: "Maatschappelijk verantwoord concurreren: mededingingsrecht in een veranderende wereld" ("Socially responsible competition: competition law in a changing society").
He was for 10 years Professor of substantive European Law at the Free University in Brussels (VUB) and visiting professor at US law schools (UGA, Athens, Georgia; McGeorge School of Law, Sacramento/Salzburg). He regularly publishes articles and is the co-author/editor of various books, including the handbook on State aid law (EU State Aids, 5th edition, Sweet & Maxwell, November 2016) and on East African Community Law (Brill/Nijhoff, March 2017). He is the co-founder of the law journals "Markt & Mededinging" (Market regulation) and "Tijdschrift for Staatssteun" (State aid law journal).
Prof. Ottervanger studied at Leiden University and, following a traineeship with the European Commission (1975), studies and worked abroad in various countries, was for 15 years a member of the board of trustees of the Europa Instituut. He was responsible for various training programs in the area of competition law and was a member of the Amsterdam bar till January 2018 (at Allen & Overy, Brussels and Amsterdam offices). As a practitioner he was involved in over 50 procedures before the European Court of Justice. He is also deputy justice at the Court of Appeal in The Hague (since 1997) and is a board member of various cultural, charitable and academic foundations and societies.
Professor emeritus European Law and Dutch Competition Law
Faculteit Rechtsgeleerdheid
Instituut voor Publiekrecht
Europees Recht
bestuurslid
hof den haag
tijdschriften
bestuurslid
bestuurslid