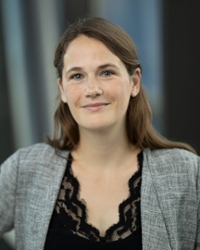 Swantje Völler
Assistant professor
Name

Dr. S. Völler

Telephone

E-mail

ORCID iD
Swantje Völler obtained her pharmacy degree from the University of Münster (Germany). During her practical year of the degree she did a 6-month placement in the pharmaceutical industry at Boehringer Ingelheim and a 6-month internship in a local pharmacy. After getting registered as a pharmacist, she continued to pursue the PhD degree in Clinical Pharmacy at the University of Münster under supervision of Prof. Georg Hempel. Her PhD project was a close cooperation between the pediatric oncology department of the University Clinic Münster and the Clinical Pharmacy department focusing on the pharmacokinetics and pharmacodynamics of doxorubicin in children. Besides gaining experience in PKPD modelling, the project also included work on the ward and insight into the design and evaluation of clinical trials in children. In addition to completing her PhD she was also involved in the further education of pharmacists by giving lectures on oncologic topics for the pharmacy chamber.
Description of the current project:
The current project focusses on the population PKPD analysis of routinely used off-label drugs in premature neonates. Data originates from the "DINO-Trial" which was initiated by Radboud University Medical Center and is currently recruiting in four Dutch Neonatal Intensive Care Units. The analysis ultimately aims for evidence based dosing guidelines, improving quality of care for this vulnerable population.
Awards:
Second section of the Pharmaceutical exams (2010), awarded by the "Apothekerstiftung Westfalen-Lippe" (pharmacy chamber) for exceptional performance during the studies
Award for the best young investigator presentation, EORTC PAMM Winter Meeting (2014)
Hans Günter Schäfer Award (2016) for outstanding contributions by young scientists to the PKPD field
Assistant professor
Science
Leiden Academic Centre for Drug Research
LACDR/Pharmacology
Work address
LMUY
Einsteinweg 55
2333 CC Leiden
Room number 03.07
Contact
No relevant ancillary activities