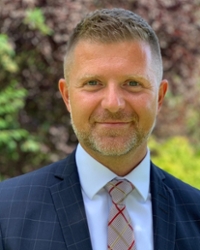 Steven Truxal
Professor Air and Space Law
Name

Prof.dr. S.J. Truxal

Telephone

E-mail

ORCID iD
Steven Truxal is Professor of Air and Space Law and Director of the International Institute of Air and Space Law.
Steven Truxal holds a BA in International Affairs with concentrations in international law and economics from the George Washington University in Washington DC, an LLM in International Commercial Law with focus on international transport and a PhD in Air Law from the University of Westminster in London.
Truxal has a track record of research excellence in air law. His PhD dissertation was later published as Competition and Regulation in the Airline Industry: Puppets in Chaos (Routledge 2012). Truxal's second monograph is entitled Economic and Environmental Regulation of International Aviation: From Inter-National to Global Governance (Routledge 2017).
Truxal joined Leiden from the City Law School, University of London, where he was Reader in Air Law and Associate Dean (International). Previously, he served as Visiting Professor of Law and Dean of Studies at the Centre for British Studies, Humboldt University in Berlin. Truxal has also spent time as a visiting researcher at the McGill Institute of Air and Space Law in Montreal.
Prior to his academic career, Truxal gained experience through working in the aviation industry with Deutsche Lufthansa AG and in government administration at the US Department of Commerce.
Professor Air and Space Law
Faculteit Rechtsgeleerdheid
Instituut voor Publiekrecht
Lucht- en Ruimterecht