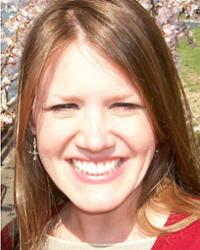 Sarah Cramsey
Professor by Special Appointment History of Central Europe, migration and diaspora's
Name

Prof.dr. S.A. Cramsey

Telephone

E-mail
I am the Special Chair for Central European Studies, Assistant Professor of Judaism & Diaspora Studies and Director of the Austria Centre Leiden. I am a historian of eastern Europe, the global Jewish experience throughout historical time and the significant Jewish diasporas unleased from the lands between Berlin and Moscow as a result of the Holocaust, World War II and postwar events. I received my doctorate in late modern European history with a designated emphasis in Jewish Studies from the University of California, Berkeley in 2014. Since then, I have taught courses on modern European history, central and Eastern Europe, Jewish Studies and Religious Studies at the University of California, Berkeley, Tulane University and the Université libre de Bruxelles. My book, 'Uprooting the Diaspora: Jewish Belonging and the "Ethnic Revolution" in Poland and Czechoslovakia, 1936-1946', is based on my prize-winning doctoral dissertation and will be published by the 'Modern Jewish Experience' series at Indiana University Press in 2023.
Fields of interest
Since my undergraduate days as a History and Religious Studies major at the College of William & Mary in Virginia and my early graduate work at Oxford University, I have worked to study religious texts in original languages and contextualize the traditions preserved in those texts throughout various historical moments. My syllabus on the "History of the Holocaust" includes two classes on the Gospel of Matthew and how that ancient text relates to modern antisemitism. A seminar that I teach on "Belief" weaves together readings from the Talmud, Dalai Lama and Fyodor Dostoyevski to excavate how faith functions in real-time. And finally, all of my teaching and research on the history of the Jewish people stems from a nuanced understanding of the concepts of diaspora, belonging and rootedness. I argue that it is impossible to write a history about people following a Jewish way of life in any given period throughout historical time without exploring how those people interacted with others who did not follow a Jewish way of life. It is precisely within the interactions between "Jews" and "non-Jews" that the telling of Jewish history assumes a larger and more transformative meaning. The study of the Jewish diaspora, its religion and its culture matters even more when it is merged and submerged with broader narratives about consensus, disagreement, coexistence or the tragic breakdown of societal relations. I welcome the opportunity to work with undergraduates and graduate students interested in religious studies, Jewish history and the modern experience of the diverse populations within central and eastern Europe and their diasporas.
Research
My book, Uprooting the Diaspora: Jewish Belonging and the "Ethnic Revolution" in Poland and Czechoslovakia, utilizes documents in seven languages from archives across three continents while merging intellectual, diplomatic and migration histories. The narrative begins in the late 1930s when both international frameworks, transnational organizations like the New York City-based World Jewish Congress and nationally heterogenous states like Czechoslovakia and Poland protected minority rights, discouraged the massive uprooting of established populations in east central Europe and imagined Jews as rooted citizens regardless of where they lived. In direct contrast to this reality, by 1944 even the most liberal thinkers in the Allied universe had agreed to engineer new international norms for the treatment of minorities and endorse population transfers as a viable tool available to postwar European state. Within this broader story about invasion, occupation, massive wartime displacement, genocide and collective Allied planning for a post-Hitler world, the narrative of Uprooting the Diaspora follows east central European diplomats, intellectuals and statesmen of both Jewish and non-Jewish background as they navigated their own exiles in places like the United States, Canada, the United Kingdom and the Soviet Union.
I argue that a small but influential coterie of Allied statesmen moved sharply away from their previous conceptions of rootedness and belonging in this short time span. This unlikely group came to define Jewishness solely in ethnic terms and eventually envisioned the European Jewish diaspora as belonging to a particular geographic space in Mandate Palestine, far away from their prewar homes. Too often, scholars overlook the sharp, intellectual transformation which links changes in ideas about demographic engineering in the European context with the population transfers that supported the establishment of a Jewish state in the Middle East. My book slows down the chronology between 1936 and 1946 to show how actors once invested in multi-ethnic visions of diasporic Jewishness within east central Europe and the Americas came to embrace a narrower version of Jewish belonging that was inextricably linked to Palestine/Israel. In short, the "ethnic revolution" or the unprecedented nationalization of space in the 1940s demanded that diasporic Jews living in places like New York City, London and Moscow simultaneously embraced ideas envisioning the Jewish homeland in Palestine as a territorial-nationalist project.
My new book project, The Other Diaspora: Family Creation, Religious Inheritance and the Migrations of Polish Jews, 1939-2004, explores the Polish Jewish mothers, fathers and children who survived World War II spread out across the Soviet Union and returned to Poland in 1946. A majority of the 150,000 Polish Jews who returned to Polish territory carrying toddlers and pushing baby carriages left Poland once again, dispersing outwards to Czechoslovakia, displaced persons camps, western Europe and then overseas to the Americas, the Middle East and Australia among other destinations. From my perspective, this transnational and transgenerational story revolves around the family unit and those who encircled them: Kazakh Muslim midwives who helped mothers birth their daughters and sons, American Jewish relief workers in United Nations' supported hospitals in postwar Poland, Czechoslovakia and D.P camps as well as social workers, teachers and nannies in Brussels, Melbourne, Buenos Aires and Lohamei HaGeta'ot who helped families at specific nodes of their migration trajectories. By merging a unique data set of 200 Polish Jewish families who returned from the Soviet Union in 1946 with archival documents from across the world and oral testimonies, The Other Diaspora enriches our knowledge about three fundamental concepts which cut across the longue duree Jewish experience: the idea of diaspora, the fuzzy boundaries between Jews and others and, finally, the tension between intentional belief and inherited cultural practice. This project has received funding by the German Historical Institute in Warsaw, the Institute for International Education/Fulbright Program in the United States and Le Fonds de la Recherche Scientifique in Belgium.
Grants and awards
2022: Jordan Schnitzer First Book Publication Award from the Association of Jewish Studies
2021: KNAW Early Career Partnership
2020: Chargé de recherches, Le Fonds de la Recherche Scientifique
2018: Franklin Postdoctoral Research Grant, American Philosophical Association
2016/17: Postdoctoral Research Fellowship, The Simon Wiesenthal Institute in Vienna
2016/17: Postdoctoral Research Fellowship, The Czech Academy of Science (declined)
2016: Postdoctoral Research Grant, German Historical Institute in Warsaw
2015: Radomír Luža Prize for best dissertation in Austrian/Czechoslovak World War II Studies
2013/14: John L. Simpson Memorial Research Fellowship, Univ. of California, Berkeley
2008/14: Multiple Foreign Language Area Studies Awards, U.S. Dept. of Education
2012/13: Dissertation Fellowship in East European Studies, American Council of Learned Societies
2011/12: Doctoral Dissertation Research Abroad Award, Fulbright-Hays Program
2011/12: Dissertation Research Award, The Andrew W. Mellon Foundation
2011: Rabbi T. Levy Tribute Fellowship for research at the American Jewish Archives
2009: American Council of Learned Societies, East European Studies Conference Grant
2006: Auschwitz Jewish Center Summer Scholar Program, Oświęcim, Poland
2006: Master's thesis awarded distinction, Oxford University
2005/06: Full scholarship for Masters of Studies, Oxford Center for Hebrew and Jewish Studies
2004/05: Research Fellowship, Fulbright Commission to the Czech Republic
2004: Undergraduate Honors Thesis in History awarded Highest Honors
2003/04: National Security Education Program (NSEP) Boren Fellowship to the Czech Republic
Curriculum Vitae
EDUCATIONAL RECORD
Ph.D. (2014)
History; University of California, Berkeley, USA
Designated Emphasis in Jewish Studies
Fields: Late Modern European History, Jewish History and Political Science

M.A. (2010)
History; University of California, Berkeley, USA
M.St. (2006)
Jewish Studies; Oxford University, Oxford, England

B.A. (2004)
History and Religious Studies; The College of William & Mary, Williamsburg, VA, USA
ACADEMIC APPOINTMENTS and PROFESSIONAL EXPERIENCE
2020-: Assistant Professor in Judaism and Diaspora Studies, Leiden University
2020: Research Fellow in History, Université libre de Bruxelles
2016/20: Professor of Practice, Department of Jewish Studies, Tulane University
2015/18: Visiting Assistant Professor, UC Berkeley Summer Sessions Abroad to PL, CZ, DE
2015/16: Visiting Assistant Professor, Department of Jewish Studies, Tulane University
2014/15: Visiting Lecturer, History Department, University of California, Berkeley
2012: Co-leader of academic trip to Israel, Bing Int'l Studies Program, Stanford University
2006/07: Assistant to the Dean of Students, National War College, U.S. Department of Defense
2006: Educational Outreach Officer, Auschwitz Jewish Center; Oświęcim, Poland
2004: International Visiting Scholar, European Humanities University; Minsk, Belarus
Key publications
BOOKS
Uprooting the Diaspora: Jewish Belonging and the "Ethnic Revolution" in Poland and Czechoslovakia, 1936-1946
(Bloomington, IN: Indiana University Press, 2023).
ARTICLES
"'It was easier with a child than without': Creating and Raising Polish Jewish Families in the wartime Soviet Union,1939-1946," Polin: Childhood, Children and Childrearing in Eastern Europe, Volume 36, edited by Natalia Aleksiun,Antony Polonsky and Francois Guesnet (Forthcoming 2022).
"Jan Masaryk and the Palestinian Solution: Solving the German, Jewish, and Statelessness Questions in East-Central Europe," S:I.M.O.N (Shoah: Intervention, Methods, Documentation
)
,Vol. 5, No. 2 (2018): 4-25.
"Timing is Everything: Changing Norms of Minority Rights and the Making of a Polish Nation-State," co-authored with Jason Wittenberg, Comparative Political Studies, Vol. 49, No. 11 (September 2016): 1480-1512.
"'The Most Significant Spot in Europe': How the 'Ethnic Revolution' and thousands of Polish Jews arrived in Náchod, Czechoslovakia in 1946," in Polish and German translation, in T. Buchen, M. Keck-Szajbel, K.
Kowalski (eds.),
Demographic changes in Poland, Germany and Europe: History, Linkages and New
Research Perspectives
(Interdisciplinary Polish Studies, Vol. 2, 2014).
"Saying Kaddish in Czechoslovakia: Memorialization, the Jewish tragedy and the tryzna
,"
The Journal of Modern Jewish Studies
(Volume 7, Issue 1, 2008): 35-50.
REVIEWS
Natalia Aleksiun, Conscious History: Polish Jewish Historians before the Holocaust (Liverpool: Liverpool University Press, 2021), Slavic Review (Forthcoming 2023).
J.J. Kulczycki,
Belonging to the Nation: Inclusion and Exclusion in the Polish-German Borderlands 1939-
1951
(Harvard Univ. Press: 2016)
English Historical Review
, Volume 133, Issue 560 (2018): 228-230.
Tara Zahra,
The Great Departure: Mass Migration from Eastern Europe and the Making of the Free World
(W.W. Norton & Co.: 2016),
Contemporary Austrian Studies
, Volume 26 (2017): 279-285.
Professor by Special Appointment History of Central Europe, migration and diaspora's
Faculty of Humanities
Institute for History
Algemene Geschiedenis
Assistant Professor
Faculty of Humanities
Leiden Institute for Area Studies
LUCSoR
No relevant ancillary activities