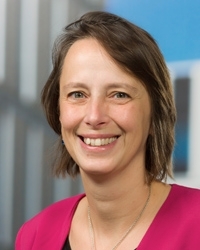 Miranda van Eck
Director of education / professor of Cardiovascular and metabolic therapeutics
Name

Prof.dr. M. van Eck

Telephone

E-mail

ORCID iD
Prof. Dr. Miranda van Eck is professor of Cardiovascular and metabolic therapeutics at the Division of BioTherapeutics, and Programme Director for the MSc programme of Bio-Pharmaceutical Sciences.
More information about Miranda van Eck
Biography
Prof. Dr. Van Eck studied Biopharmaceutical Sciences, specializing in Biopharmaceutics at the University of Leiden. After her graduation in 1994, she obtained her PhD from Leiden University in 1999. In 2001, Van Eck was appointed as Research Fellow of the Netherlands Heart Foundation. In 2005, she obtained a prestigious VIDI Award and became appointed as Assistant Professor. In 2007, Van Eck was appointed Established Investigator of the Netherlands Heart Foundation and became Associate Professor. Her research is focused upon the role of macrophage genes in the development of atherosclerosis with special emphasis on the function of genes involved in HDL metabolism and reverse cholesterol transport from the arterial wall to the liver. For her work she received twice a Pfizer International HDL Research Award.
Director of education / professor of Cardiovascular and metabolic therapeutics
Science
Leiden Academic Centre for Drug Research
LACDR/Pharmacology
Work address
LMUY
Einsteinweg 55
2333 CC Leiden
Room number 00.17
Contact
Grant Committee Member for scientific assessment of fellowships
Associate Editor
Associate Editor
Editorial Board member