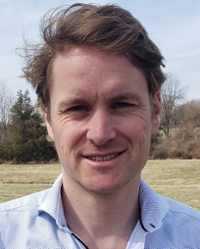 Michiel Veldhuis
Assistant professor
Name

Dr. M.P. Veldhuis

Telephone

E-mail

ORCID iD
Michiel Veldhuis is an ecologist trying to understand the drivers of organization of communities and ecosystems, how this is affected by humans and its consequences for ecosystem services and stability.
Professional experience
In 2011, Michiel graduated from the University of Groningen, where he obtained both his BSc and his MSc degree (cum laude) in the topmaster Evolutionary Biology. He did internships on 1) abiotic and biotic drivers on herbaceous biodiversity in the Drentsche Aa; 2) palm seed dispersal by Agoutis at the Smithsonian Tropical Research Institute on Barro Colorado Island, Panama; 3) the effects of soil compaction by large herbivores (white rhino's) on vegetation structure in Hluhluwe-iMfolozi Park, South Africa. Although these projects were undertaken in very different ecosystems, they all investigate processes that shape communities or ecosystems.
Michiel managed to secure funding for a PhD on the role of ecological autocatalysis on the organization of African savanna ecosystems under supervision of Han Olff and Matty Berg, which he defended in 2016. The major part of the field work was done in Hluhluwe-iMfolozi Park, South Africa. The project included nutrient redistribution by large herbivores, how termites stabilize decomposition rates and drivers of woody vegetation structure and patchiness.
Between 2015 and 2019, Michiel was a postdoc within the AfricanBioServices project, aiming to quantify how regional gradients in rainfall and soil fertility drive variation in ecosystem organization and how this is affected by human population growth and associated land use change. He investigated the consequences for the stability of ecosystems both in and outside protected areas and the spatial interactions between landscape zones in the Greater Serengeti-Mara Ecosystem. After about 2 years, he moved to the Pringle Lab and Tarnita Lab at Princeton University where he continue to work in the Greater Serengeti-Mara Ecosystem. His research in the Pringle lab focused on the niche partitioning among large herbivores and termites and how this is expected to change in the future. His research in the Tarnita lab dealt with spatial vegetation patterns and their consequences for the stability of ecosystems, and the potential role of termites and large herbivores in creating them.
Since 2019, Michiel is an Assistant Professor at the CML and teaches on both BSc. and MSc. programmes including Conservation Biology, Ecologie II and Governance of Biodiversity.
Research topic
Michiel has always been interested in how species interact and how these interactions structure ecosystems to what we observe today. He has mainly studied African savanna ecosystem with a strong focus on how organisms affect and change their environment including other organisms. Recently, this has been extended by investigating how people and wildlife interact (both positive and negative) and how we can increase ecosystem stability whereas the pressure on savanna ecosystems is strongly increasing due to human population growth and climate change. He works at multiple spatial scales, from grazing lawn formation at several meters to changes in ecosystem stability on the whole African continent. His current focus is on:
the effect of people on wildlife and vice versa (ecosystem services);

the drivers of ecosystem stability;

niche partitioning of large herbivores in relation to climate change;

the effect of animals (large herbivores and termites) on the functioning and stability of savanna ecosystems.
Assistant professor
Science
Centrum voor Milieuwetenschappen Leiden
CML/Environmental Biology
Work address
Van Steenis
Einsteinweg 2
2333 CC Leiden
Room number B3.10
Contact
No relevant ancillary activities