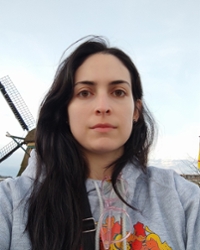 Manuela Rueda Trujillo
PhD candidate / contract
Name

M.A. Rueda Trujillo

Telephone

E-mail
Manuela's research at the CML is focused on the understanding of feedbacks between climate and vegetation in tropical forests.
Professional experience
Manuela's previous research was focused on the influence of past climate changes, during Lateglacial period, in the distribution of altitudinal vegetation belts in the Paramo de Berlín (Colombian Eastern Cordillera). This influence was evaluated based on pollen grains, stratigraphy, Titanium and Iron contents, loss-on-ignition, and radiocarbon dating of a sedimentary core (M. Sc. thesis). After Manuela graduated from her master's degree, she carried out an independent research related to the influence of precipitation, vapor pressure deficit, and deforestation in photosynthesis of Amazonian forests, evidenced by changes in the annual cycle of Sun Induced Fluorescence - SIF.
Before coming to the CML, Manuela also worked at the Laboratory of Geomatics at Universidad Nacional de Colombia in several extension projects related with urban green zones, ecological connectivity and landscape analyses, water irrigation districts for agricultural purposes in rural areas, and deforestation monitoring in lands dedicated to hydropower production.
Research topic
Based on what she learnt from previous experiences, Manuela wish to continue her PhD studies to get a deeper knowledge and understanding of the vegetation – climate feedbacks, and their impacts on the distribution of terrestrial tropical ecosystems in the short and long-term. Her main motivation for pursuing a career focused on research is the possibility of learning something new each day.
PhD candidate / contract
Science
Centrum voor Milieuwetenschappen Leiden
CML/Environmental Biology
Work address
Van Steenis
Einsteinweg 2
2333 CC Leiden
Contact
PhD candidate
Science
Centrum voor Milieuwetenschappen Leiden
CML/Environmental Biology
Work address
Van Steenis
Einsteinweg 2
2333 CC Leiden
Room number B3.19
Contact
No relevant ancillary activities