Maarten Schrama elected Teacher of the Year 2021
Maarten Schrama (CML) has won the Teacher of the Year Award 2021. During a lunch with fellow nominees, Schrama received a cheque worth 5,000 euros from student assessor Joost Barendse to spend on educational activities.
Despite praise from the jury, Schrama was stunned when he was chosen as the winner. He did not see it coming at all. 'I am speechless. I am sitting here among the best of the best lecturers of the Faculty, so it is an enormous honour that I have won.' Besides being amazed, Schrama reacted full of joy to the victory. He says he never wins a prize. 'The last time I was four years old, I won a colouring competition from the local bakery. But this is something else!' Schrama was up against Onno van Gaans and Jan van Rijn, who were on the shortlist with him.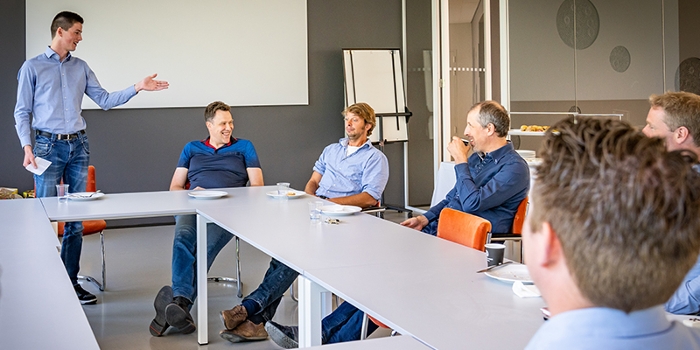 Praised for his passion
Schrama is praised for his passion for involving students and offering hands-on education, according to the jury report. For example, he organised a scavenger hunt at the beginning of the corona pandemic. It was so successful that it was organised again this year, but without the corona measures. 'It was clear that Maarten understood very well the negative impact of the pandemic and what online education did to students. He tried to help them as much as possible,' says the jury report. It also states that Maarten values the interaction between his students and himself and wants to be as interactive as possible. 'He tries to stimulate students to think for themselves and to ask questions, instead of just studying for an exam. He wants to activate the knowledge students gain, so they see the bigger picture.'
Contribution to Polderlab research is a great opportunity for students
The Polderlab project is mentioned as an example: a large-scale, ten-year research project in the Vrouw Vennepolder in Oud Ade, where Leiden University, together with the citizens' cooperative Land van Ons and Holland Rijnland, is studying the biodiversity in this area. 'The project is a great opportunity for students to gain practical knowledge while contributing to this research', the jury writes.
Prize money used to purchase research equipment
Schrama plans to spend his prize money on equipment that he can use during his research in the Vrouw Vennepolder. 'There is a digital platform that we would like to use. On that platform, students can take their measurements digitally, so that we no longer need to use paper. We also want to use certain kits within the framework of citizen science and we need good sensors in order to carry out thorough research. With the prize money, we can make a very good start. I am very happy with that!'