Land van Ons and Leiden University start cooperation in peat meadow area in Oud Ade
Land van Ons, a cooperation that buys agricultural land for the restoration of biodiversity and landscape, and Leiden University join forces. Together, they will investigate over a longer period of time which agricultural management leads to the best restoration of biodiversity. The research will start in September on a plot of more than 21 hectares in Oud Ade, which will be owned by Land van Ons from 1 October.
Thanks to the various watercourses, the future plot in Oud Ade consists of about ten parcels that can be separated from each other. Franke Remerie, the president of Land van Ons: 'That makes it an ideal area to investigate the effects of long-term and different types of management. Restoring biodiversity is the most important, but we also have to take into account that the land still has to be used commercially by a farmer. That aroused the interest of Leiden University.' The driving force behind the research project at Leiden University is Maarten Schrama. He assistant professor at the Department of Environmental Biology at the Institute of Environmental Sciences (CML).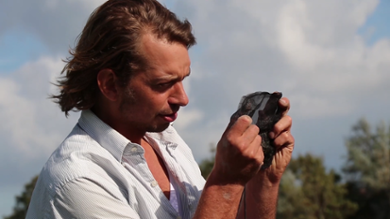 Students start the research
Before the land management can take off, it is necessary to analyse the current state of the plot. On 7 September, forty third-year biology students of Schrama started doing so. In a fortnight they will record the current state of the biodiversity of the plants, insects, soil fauna and water creatures. But they will also investigate other parameters that are specifically important for peatlands, such as water quality, soil physics, the degree of salinization and greenhouse gas emissions from the peat. Schrama: 'We also collect data in the surrounding polders, so that we can compare them now and in the future. A major operation in which also a team of ten researchers from Leiden University, Naturalis and the NIOO participate. 'Later on, we also want to recruit citizens to help us with the research.'
First results
The first results are expected during the autumn. Land van Ons wants to make them available via a live stream. Remerie: 'The transfer of knowledge from scientists to citizens is indispensable, so that we can all better understand why we, as human beings, have to deal differently with all the life on earth. This is one of the most important pillars of our cooperation.'
High ambitions
'There is a wide range of challenges in this peat meadow landscape,' says Schrama. 'In addition to the loss of biodiversity, there are issues such as subsidence, greenhouse gas emissions, the pressure on the agricultural income model and the gap between urban and rural areas. We would prefer to include all these aspects in this research, so that our results can serve as a flywheel for many more peat meadow landscapes in the Netherlands and in Northern Europe.'
More information or do you want to helpt with the research? Please contact Maarten Schrama.
About Land van Ons
Citizens' initiative Land van Ons (Land of Us) started in November 2019 via social media to recruit participants who want to jointly buy agricultural land in order to restore biodiversity and landscape.

In April, the first agricultural plot was bought in the province of Drenthe. A different set-up has already been used there this year. In addition to Drenthe, land has also been purchased in South Holland, Friesland and Overijssel. Plots in other regions are in the pipeline.

Land van Ons now has 8,000 participants

Membership is €10/year. Participants have to buy a minimum of €20 per year m2 of land.