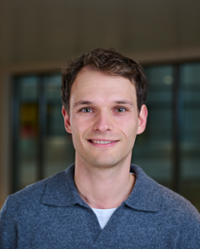 Lars van Doorn
PhD candidate
Name

L.M.J. van Doorn MSc

Telephone

E-mail

ORCID iD
Lars van Doorn is PhD candidate at the department of Economics.
Lars van Doorn completed the master Economics and Governance cum laude at Leiden University in 2018. During this master, he was an intern at the Divisie Toezicht Beleid of De Nederlandsche Bank. Prior, he obtained a bachelor's degree in Political Science (Leiden University) and a master's degree in International Relations (University of Amsterdam)
His master thesis examined whether the effect of globalization on welfare state spending is mediated by a welfare programme's institutional structure. In 2019, his thesis was nominated for the Daniel Heinsiusprijs (price for best Master's thesis) by the Nederlandse Kring voor Wetenschap der Politiek (NKWP) and the Flemish Vereniging voor Politieke Wetenschap (VWP).
Lars van Doorn currently works as a teaching/research staff member at the department of Economics. His research interests include the effects of globalisation and technological change on the labour market, and the political consequences that are associated with these trends.
Teaching
BA-theses (EBM)

Information activities Public Administration
Research
Title: 'Flexibilization, globalisation and technological change: consequences for labour markets and social security'
PhD candidate
Faculteit Rechtsgeleerdheid
Instituut Fiscale en Economische vakken
Economie
No relevant ancillary activities