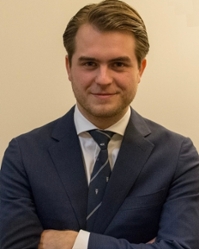 Jip Stam
Researcher/Lecturer
Name

Mr.drs. J. Stam

Telephone

E-mail

ORCID iD
Jip Stam (1993) received master degrees in political science and law from Leiden University (both cum laude). As of February 2019, he works as a lecturer and researcher at the Department of Jurisprudence for the Institute for the Interdisciplinary Study of the Law (Metajuridica). His primary fields of interests are legal theory, political philosophy and constitutional law.
More information about Jip Stam
Next to lecturing for the courses 'Foundations of law' and 'Introduction to law', Jip is conducting PhD-research on the limits of freedom of expression in political debate. His focus lies on the exceptional position of parliamentarians (and politicians more generally) with regard to the criminalization of 'hate speech'. On this position – or: responsibility – there is no clear and legally demarcated consensus in the jurisprudence of the Dutch Supreme Court and the European Court of Human Rights, which raises the question whether the application of hate speech bans in the penal code, such as group defamation or incitement to hatred or discrimination, are still aligned with the principle of legal certainty. From a more general perspective, Jip is concerned with the reconcilability between hate speech bans and some of the cardinal principles of liberal democracy, such as the idea of tolerance, freedom of expression and the legality principle. In his dissertation, Jip not only seeks to critically analyze the prevailing legal framework and its jurisprudence, but also to research his topic from the viewpoints of constitutional law, legal theory and political philosophy. Professor Afshin Ellian is Jips acting supervisor.
Working title: Speaking without reticence. An inquiry about the special responsibility of politicians in public debate with regards to the criminalization of 'hate speech'.
Researcher/Lecturer
Faculteit Rechtsgeleerdheid
Instituut voor Metajuridica
Encyclopedie
External PhD Candidate
Faculteit Rechtsgeleerdheid
Instituut voor Metajuridica
Encyclopedie
No relevant ancillary activities