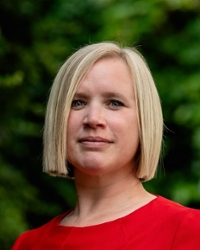 Jannemieke Ouwerkerk
Professor of European Criminal Law
Name

Prof.mr.dr. J.W. Ouwerkerk

Telephone

E-mail

ORCID iD
Jannemieke Ouwerkerk is full Professor of European Criminal Law at Leiden Law School.
Jannemieke Ouwerkerk is full Professor of European Criminal Law at Leiden Law School. She is also Head of the Department of Criminal Law and Criminal Procedure.
Previously to her appointment at Leiden Law School, Jannemieke Ouwerkerk worked as an Associate Professor of Criminal Law at Tilburg Law School (until July 2016). She has a law degree from Utrecht University, (LL.M. 2006). She obtained her PhD degree from Tilburg University for her dissertation 'Quid Pro Quo? A comparative law perspective on the mutual recognition of judicial decisions in criminal matters' (Intersentia 2011, supervisors: prof. dr. M.S. Groenhuijsen and prof. dr. J.B.H.M. Simmelink).
Research
Her research activities encompass the various branches of EU criminal law, such as cross-border cooperation between Member States and the harmonisation of criminal law and criminal procedure. With the financial support of an NWO VENI grant, Ouwerkerk's recent work has been focusing on the exercise of EU criminalisation powers, i.e. the creation of EU-wide criminal prohibitions (e.g. in the areas of terrorism, human trafficking, EU-fraud). It has for instance been examined which grounds have been underpinning EU-level criminalisation of conduct under the Lisbon Treaty and whether, and to what extent, these grounds justify the criminalisation of the conduct concerned. Moreover, research has been carried out to articulate normative underpinnings for the legitimate exercise of EU criminalisation powers. Part of this research is still ongoing. Intermediate research findings have been published through a number of journal articles.
A second research project concerns cross-border cooperation in criminal affairs between EU Member States, particularly under the instruments based on the principle of mutual recognition. This research particularly focuses on the distribution of financial responsibilities between Member States in this regard. Thanks to a seed money grant, awarded under the Faculty's research profile area Interaction between Legal Systems, Ouwerkerk has been enabled to carry out a preliminary study on the impact of financial factors upon cross-border criminal justice cooperation (including rights protection) in the Netherlands, Romania and Italy. In the course of this study, she was a Visiting Research Fellow at the Department of Law of the European University Institute in Florence (Italy) from April-June 2018.
Ouwerkerk's research takes place within the context of the research programme Criminal Justice: Legitimacy, Accountability, and Effectivity.
Teaching
Materieel strafrecht (bachelor Rechtsgeleerdheid)

Internationaal en Europees strafrecht (master Rechtsgeleerdheid)
Criminal Justice, Human Rights and EU Criminal Law (Criminal Justice master)
Professor of European Criminal Law
Faculteit Rechtsgeleerdheid
Instituut voor Strafrecht & Criminologie
Straf- en Strafprocesrecht
Redactielid European Journal of Crime, Criminal Law and Criminal Justice
Redactielid Delikt en Delinkwent
Lid
Redacteur Tekst & Commentaar Internationaal strafrecht
Redactieraad Tijdschrift voor Recht en Religie
Vast annotator
Bestuurder