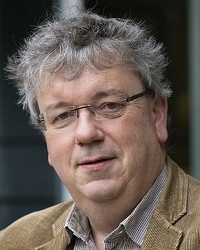 Huub de Groot
Professor of Biophysical organic chemistry
Name

Prof.dr. H.J.M. de Groot

Telephone

E-mail

ORCID iD
Huub de Groot aims to understand the fundamentals of direct energy conversion by proteins, complexes, membranes and cells in natural photosynthesis for the chemical design of responsive matrices for direct energy conversion with high yield by artificial photosynthesis.
More information about Huub de Groot
Curriculum Vitae
Personal information
Nationality: Dutch
Date of birth: 19 May 1958
Education
1986 PhD Solid State Physics Leiden University, The Netherlands (cum laude)
Thesis title: 'Non-Linear Excitations in Magnetic Systems'
1982 MSc in Physics, Leiden University, The Netherlands
Current and previous research positions
1998 – now Professor of Biophysical Organic Chemistry, LIC
2009 – now Scientific director of the Dutch Towards BioSolar Cells Consortium
1996 – 1998 Senior lecturer, LIC
1988 – 1996 Lecturer , LIC
1988 – 1992 Academy-Fellow (Royal Netherlands Academy of Sciences)
1986 – 1988 NIH Post-doc fellow and NWO fellow, MIT, Cambridge, USA
1986 Postdoctoral researcher FOM, Leiden
Grants, awards, recognitions since 2010
2016 NWO-CW Solar to Products with F. Buda (k€ 259)
2015 FES TBSC Solar Fuel Devices
2014 FES TBSC Educational development phase 2 (k€ 157)
2013 NWO NMARRS Graduate School programme with M. Ubbink (k€ 200)
2012 FES TBSC Artificial Leaf (k€ 50)
2012 FES TBSC Harvesting sunlight with plants and microorganisms charge separator and catalyst modules with Alia (k€ 285)
2011 FES TBSC Educational Modules (k€ 150)
2011 FES TBSC NMR for device rational design (k€ 290)
2011 FOM-ALW TBSC with A. Alia (k€ 467)
2011 FES TBSC Management - Scientific Director (k€ 610)
2011 FES TBSC Predictive modeling of nanodevice components (k€ 290)
2010 FOM Eurocores (k€ 265)
Contribution to teaching and supervision (all times)
Supervisor 32 PhD; Supervisor 11 Postdocs. 2CSC, 1 HEC, 1 Marie Curie, 3 Veni, (+2 Vidi) Employment of recent PhD students and postdocs: A. Monti UCL, T. Eisenmayer Albemarle, S.Tamarath Surendran Singapore MIT, G. Janssen Director Business Development at Crystallics, F. Kara University Antwerpen, J.L. Valles Pardo EMPA, K.B. Sai Sankar Gupta NMR Facility Manager LIC, K.S. Joya MPI Muelheim, P. Wawrzyniak Collis.
Teaching nuclear spin dynamics, solid state NMR, and coherent photochemistry for international master's in Chemistry in Leiden
Founding member of the curriculum committees for the Life Science and Technology bachelor's programme with Delft University, the Liberal Arts and Science bachelor's of the Leiden University College The Hague and the multidisiciplinary honours programme in Leiden
Lectures in magnetic resonance microscopy and sustainable energy
Honours classes Artificial photosynthesis, Crises in biology and Metabolic disorder
Contributing to the minor Science Based Business and Fundamentals of Molecular Biotechnology
Regularly contributions with photosynthesis, artificial photosynthesis, green energy to the educational outreach and SPOC of Leiden University for high school students
Teaching at international PhD schools, the European summer school in biological solid state NMR, the EBSA photosynthesis school and courses in materials and energy in Leiden and elsewhere
Lecturer for Lapp Top and Pre-University colleges
Other responsibilities since 2010
Member of International high level review panels for DFG, BBSRC, ANR
Initiator of the Eurosolarfuels Eurocores programme of the ESF and member of its board
Coordinator of European collaborative research projects, most recently SolarFuelTandem
Scientific director of the BioSolar Cells PPP and programme leader of the corresponding fundamental research programme with FOM/NWO
Member of the Bruker International Scientific Advisory Board, Regular member of PhD thesis committees in The Netherlands and abroad
Member of Board of Trust of the Leiden Honours Community Foundation
Science Expert for the European Union and the European Science Foundation
Member and chair of the Environmental Risks Panel of the AXA Junior Research Post-Doctoral Fellowships and advisor to the AXA Chairs
Member of the standing committee for the selection of access to iNEXT European facilities for structural biology
Regular member of NWO advisory committees for the preparation of calls for proposals in green energy research and innovation
Member of the FCT review panel for the Portugese research units in Natural and Environmental Sciences
Regularly serving as jury member for scientific prizes, including Akzo Nobel research prize
Member international search commitees for tenure track professorships
Steering committee of the Joint Programme on Advanced Materials and Processes for Energy Applications (AMPEA) of the European Energy Research Alliance
Member of the standing committee for earth and life sciences of the Royal Academy of Sciences
Member of Royal Holland Society of Sciences and Humanities, American Physical and Chemical Societies, Netherlands Physical
Biophysical and Chemical societies, and society of Leiden professors
Publication record including five recent representative publications
Ca. 210 papers with >5800 citations, H-index 40 (Web of Science)
Full publication record: Leiden University
Joya K.S., Groot H.J.M. de, Controlled Surface-Assembly of Nanoscale Leaf-Type Cu-Oxide Electrocatalyst for High Activity Water Oxidation. ACS Catalysis. 2016, 6, 1768–1771
Purchase R.L. Groot H.J.M. de, Biosolar cells: global artificial photosynthesis needs responsive matrices with quantum coherent kinetic control for high yield. Interface Focus 2015, 5, 20150014.
Monti A., Negre C.F.A., Batista V.S., Rego L.G.C., Groot H.J.M. de, Buda F., Crucial role of nuclear dynamics for electron injection in a Dye–Semiconductor Complex. Journal of Physical Chemistry Letters. 2015, 6, 2393–2398.
Alia A., Buda F., Groot H.J.M. de, Matysik J., Solid-State NMR of Nanomachines Involved in Photosynthetic Energy Conversion. Annual Review of Biophysics. 2013, 42, 675-699.
Eisenmayer T.J., Groot H.J.M. de, Wetering E. van de, Neugebauer J., Buda F., Mechanism and Reaction Coordinate of Directional Charge Separation in Bacterial Reaction Centers. Journal of Physical Chemistry Letters. 2012, 3, 694-697.
Ganapathy S., Oostergetel G.T., Reus M., Tsukatani Y., Chew A.G.M., Buda F., Bryant D.A., Holzwarth A.R., Groot H.J.M. de, Structural Variability in Wild-Type and bchQ bchR Mutant Chlorosomes of the Green Sulfur Bacterium Chlorobaculum tepidum. Biochemistry. 2012, 51, 4488−4498.
Augustijn D., Roy U., Schadewijk R. van, Groot H.J.M. de, Matysik A., Metabolic Profiling of Intact Arabidopsis thaliana Leaves during Circadian Cycle Using H-1 High Resolution Magic Angle Spinning NMR. PLOS ONE. 2016, 11, 0163258.
Presentations including five presentations at international conferences since 2010
18-23 April 2010, 51st ENC Daytona Beach, Florida; (invited)
17-20 June 2010 workshop on QuEBS 2010 Harvard University (invited)
4 9 July 2010 Joint EUROMAR 2010 and 17th ISMAR Conference Florence (invited)
22-27 August 2010 the XXIVth ICMRBS, Cairns, Australia (invited)
22-27 August 2010 Beijng, Antenna Meeting 15th ICP; Tianjin (invited)
2-3 December 2010 Berlin: International Symposium Protein Structure & Membrane (invited)
10 March 2011 Rathenau Instituut occasion of publication on Bio economy (invited)
1- 2 November 2012 Eindhoven joint symposium NRSC-Catalysis - BioSolar Cells (invited)
10-12 March 2014 Noordwijkerhout conference NCCC (invited key note lecturer)
16-20 March 2014 ACS ENVR Dallas (speaker and co-organiser)
4-6 June 2014 London EES workshop Interface between experimental and theoretical (Invited)
8-20 June 2014 Montecatini Terme, Italy - CIMTEC (Invited)
24-28 November 2014 Japan, International Conference on Artificial Photosynthesis (ICARP2014) (invited)
Professor of Biophysical organic chemistry
Science
Leiden Institute of Chemistry
LIC/Energy & Sustainability
Work address
Gorlaeus Building
Einsteinweg 55
2333 CC Leiden
Room number DM120
Contact
No relevant ancillary activities