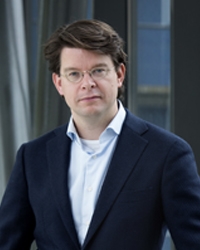 Camiel Boon
Professor of Ophthalmology, in particular retinal diseases
Name

Prof.dr. C.J.F. Boon

E-mail
Camiel J.F. Boon (1980, 's-Hertogenbosch) is a consultant ophthalmologist and Full Professor of Ophthalmology (since 2019) at Leiden University Medical Center. As ophthalmologist, he is specialized in diseases of the retina, vitreoretinal surgery, and hereditary retinal diseases. Since 2016, he is also a Professor of Clinical Ophthalmogenetics at the Amsterdam University Medical Centers / University of Amsterdam.
Ophthalmology
The eye is our window to the world.
Ophthalmologists have virtually all the diagnostic and treatment possibilities in their own hands. The wonderful phenomenon of sight starts when light sensitive cells of the retina (the photoreceptors) receive a trace of light, and convert this to an electrical signal. After a complex cascade of processing, this electrical signal is sent to our brain, where it is transferred into a meaningful image with personal interpretation and experiences.
The diseases of the retina are a common and important part of ophthalmological practice. These diseases often have an enormous impact on eyesight, because they can also affect the center of the retina (the macula).
As ophthalmologist, Prof. Boon uses very detailed investigations with micrometer-level scans, which enable a very meticulous diagnosis and treatment of these eye diseases.
As a relatively closed compartment, the eye is on the one hand relatively isolated and immune-privileged from the rest of the body, yet at the same time well-accessible to microsurgical intervention and a broad range of clinical examinations of its structure and function. The eye is therefore an attractive target organ for the application of innovative new treatments, such as gene and stem cell therapy.
Academic career
Camiel Boon received his MD degree magna cum laude at the Catholic University of Leuven (Belgium). He received his PhD cum laude (2009) at the Radboud University Nijmegen (the Netherlands), on the thesis 'Hereditary retinal disease – Clinical and genetic studies on the role of the peripherin/RDS gene, the BEST1 gene, and the CFH gene', in which he investigated hereditary retinal diseases. He received several awards for this PhD thesis, in which he described several diseases and their genetic associations for the first time. Boon completed his residency in Ophthalmology at Radboud University Medical Center (Nijmegen, the Netherlands) in 2012. He became a Fellow of the European Board of Ophthalmology after passing the exam summa cum laude. He then specialized further in diseases of the retina, with a fellowship in medical retina and vitreoretinal surgery at the Oxford Eye Hospital (Oxford, United Kingdom), an observership at the Vitreous Macula Retina Consultants of New York (New York, USA), followed by a vitreoretinal surgery fellowship at The Rotterdam Eye Hospital.
Prof. Boon and his research group focus on clinical and genetic research on central serous chorioretinopathy, hereditary retinal diseases (including gene and stem cell therapy), and age-related macular degeneration. Thus far, he has published more than 130 papers in leading scientific journals, as well as a range of chapters in atlases. He is a regularly invited speaker at national and international scientific meetings. Boon is co-initiator and co-founder of YOURS, the European society for young retina specialists.
Boon has received several prestigious scholarships and grants, such as a Niels Stensen Fellowship award (2011), the Gisela Thier Fellowship of Leiden University (2013), a ZonMw Veni grant (2015) and ZonMw More Knowledge with Less Animals grant (2018), an ODAS Foundation grant (2018), a Euretina Clinical Research Award (2019), and several EU Horizon 2020 grants.
As a principal investigator, Prof. Boon is involved in several innovative 'regenerative medicine' studies on new treatments for retinal diseases, such as gene therapy. He is a principal investigator and lead clinician with the Leiden-Amsterdam Expertise Center for Central Serous Chorioretinopathy and Hereditary Retinal Diseases of the Dutch Federation of Universities (NFU), as well as the European Reference Network for Rare Eye Diseases (ERN-EYE). He is the chairman of the Dutch Ophthalmogenetics Working Group, and secretary of the Dutch Medical Retina Working Group of the Dutch Ophthalmological Society (NOG). He is member of the Steering Committee of the European Vision Institute (EVI), and a member of the prestigious Macula Society.
Professor of Ophthalmology, in particular retinal diseases
Faculteit Geneeskunde
Divisie 3
Oogheelkunde