Leiden Law School Professor Ann Skelton awarded Honorary Doctorate from the University of Strathclyde
Leiden Law School takes great pride in announcing that the University of Strathclyde has bestowed an honorary doctorate on Professor Ann Skelton, Professor of Children's Rights in a Sustainable World at Leiden Law School and Chair of the United Nations Committee on the Rights of the Child. This prestigious recognition celebrates Professor Skelton's exceptional contributions to the advancement of children's rights and recognises her profound academic and societal impact on a global scale.
Professor Skelton, currently serving Programme Director of Advanced Studies in International Children's Rights (LL.M.), has dedicated her career to advocating for the rights and protection of children. Her extensive research and scholarship cover various aspects of international children's rights.
The University of Strathclyde, renowned for its commitment to academic excellence and research-driven solutions, has chosen to honour Professor Skelton in light of her groundbreaking work. This accolade serves as a testament to her influential research, innovative approaches, and her unwavering dedication to promoting children's rights worldwide.
Professor Skelton's contributions have significantly influenced the field of children's rights, shaping policy frameworks and inspiring legal practitioners globally. Her research has shed light on critical issues related to child protection, empowering children's voices, and addressing the complex challenges faced by children. Throughout her career, Professor Skelton has been at the forefront of championing the rights of children. Her expertise and dedication have led to the development of groundbreaking legal approaches that prioritise the well-being and empowerment of children.
Professor Jennifer Davidson, Executive Director of the Institute for Inspiring Children's Futures, and its Inspiring Children's Futures Doctoral Research Centre, University of Strathclyde, the honorary promotor for Professor Skelton's doctorate, shared her admiration, stating, 'Professor Skelton's remarkable contributions to the field of children's rights are truly outstanding. Her research and advocacy have not only shaped the discourse but have also influenced policy and practice, ensuring that the rights of children are upheld and protected. It is a privilege to honour her with this prestigious doctorate.'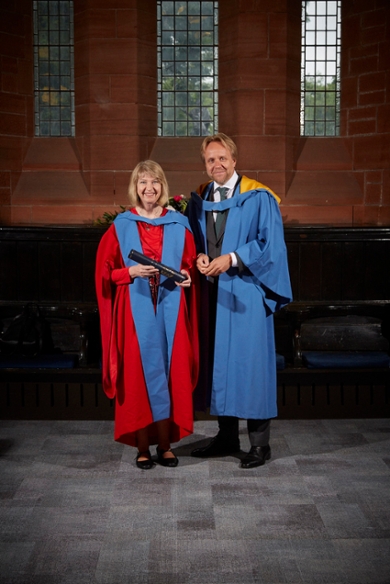 Professor Ton Liefaard, UNICEF Chair in Children's Rights at Leiden University and Head of the Department of Child Law at Leiden Law School, praised Professor Skelton's achievements, stating, 'We are immensely proud of Professor Skelton and her well-deserved honour. Her groundbreaking research and tireless advocacy have made a significant impact on the field of children's rights. She exemplifies the values and commitment that Leiden Law School strives to instil in its faculty and students.'
The honorary doctorate from the University of Strathclyde further solidifies Professor Skelton's position as a leading authority in the field of children's rights. Her work continues to inspire future generations of legal scholars and advocates, leaving a lasting impact on the pursuit of justice and the protection of children's rights globally.
Leiden Law School extends its heartfelt congratulations to Professor Ann Skelton on this exceptional achievement and eagerly looks forward to her continued contributions to the advancement of children's rights.