Leiden IIASL International Air Law Conference Aviation Cybersecurity
A one-day conference was organised by the International Institute of Air and Space Law at Leiden University on 11 May 2023, in the lead-up to the 14th Leiden-Sarin International Air Law Moot Court Competition. The topic of the conference was 'Aviation Cybersecurity', which was also the topic of this year's case for competition.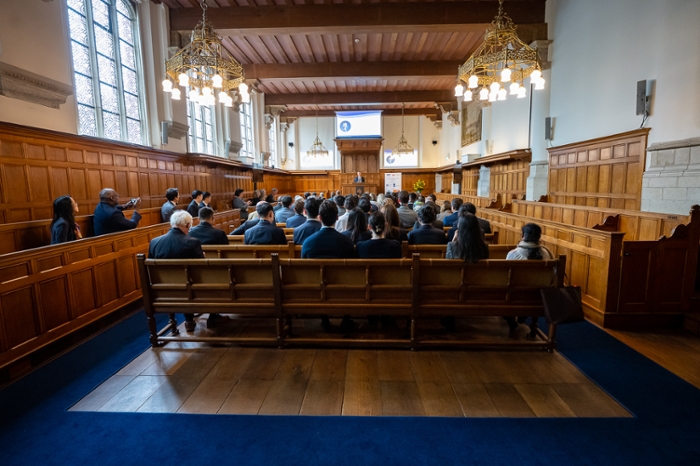 The conference primarily addressed the question of whether the current regulatory approach at a national, European Union and international level – both generally and within the lex specialis domains of international civil air transport – is appropriate. To achieve this, the conference brought together experts from around the world and provided a forum for open discussion regarding the most pressing legal issues in the aviation sector.
The conference opened with opening words from Steven Truxal (Professor of Air and Space Law & Director of the IIASL, Leiden University); Mark Harbers (Minister of Infrastructure and Water Management); Henri van Faassen (Director of Civil Aviation, Ministry of Infrastructure and Water Management); and Stefaan Van den Bogaert (Director of Research & Acting Dean, Leiden Law School, Leiden University).
The conference also featured three keynote speeches from leading cyber experts. The first was by Inge Bryan (Managing Director, Fox-IT) who spoke about 'Cyber Threat Landscape in Relation to Critical Infrastructure'. This was followed by Andrew Opolot (Legal Officer, Legal Affairs and External Relations Bureau, ICAO) who addressed 'International Air Law Tools for Dealing with Cyberattacks against Civil Aviation'. Finally, Marc A. Nichols (Chief Counsel, U.S. Federal Aviation Administration) spoke on 'What a Tangled Web We Weave: Aviation Prosperity, Cybersecurity Risk'.
In addition, there were also three focused panels on 'An Introduction to Risks and Opportunities', 'Liability' and 'Stakeholders' Perspectives'. These panels were populated by distinguished speakers from different aviation stakeholders (e.g. Airlines, Law Firms, Universities, and Authorities), whereby they shared their thoughts and experiences on the different legal risks and opportunities facing the aviation community. A conference report will be published in the Air & Space Law journal containing further information about each presentation and panel.
Following the conference, the Mayor of Leiden, Henri Lenferink, kindly hosted a reception at the Leiden City Hall where he also addressed participants.
More information
14th Leiden-Sarin International Air Law Moot Court Competition