Agreement between ISGA and NIPV made official
The collaboration between ISGA and the NIPV (Netherlands Institute for Public Safety) has been made official. This took place under the guidance of initiators Jeroen Wolbers (ISGA) and Peter Bos (NIPV) during the conclusion of the three-part lecture series on the Dutch crisis management system. Sanneke Kuipers (professor Crisis Governance), on behalf of ISGA, and Coby Flier, on behalf of the NIPV, signed the official agreement.
Sanneke Kuipers is very pleased to be collaborating with the public knowledge institute. 'We share a common ambition and a common responsibility. It's about addressing safety issues and answering them if possible. And training people who are responsible for security in the Netherlands now and in the future. I think that with this shared mission we can strengthen each other through this cooperation.'
Collaboration in a number of fields
The lecture series is a prime example of the collaboration. The two parties will also collaborate on research by joining forces in the recruitment and supervision of PhD candidates. Marthe Luesink has already started, her PhD research focusses on scenario planning methodologies in crisis management. The collaboration is also relevant for students. Internships and research positions within NIPV will be made available for Leiden University students.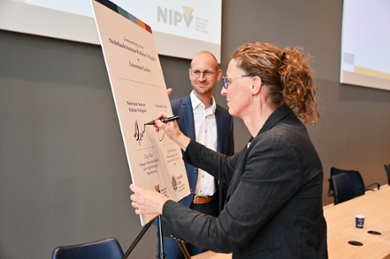 Coby Flier sums up a few targets that are part of the agreement. 'We are planning to create a special chair in combination with a lectureship within the NIPV. I would like to invite students to consider applying for an internship within our organization. I believe that signing this agreement is an important official step in this collaboration that has already gotten off on a good start with the lecture series.'
Peter Bos (affiliated to NIPV and endowed professor of Military Aspects of Crisis Management and National Security) is very pleased with the cooperation: 'Where the crisis management research of Leiden University is seen as a leader in the field of crisis governance theory, NIPV is leading in the field of case-oriented practice-based research, which can be applied to policy-making, doctrine formation and training. The collaboration offers unique opportunities to deepen and enrich the connection between theory and practice'. Wolbers (ISGA associate professor) shares this opinion: 'The added value in the cooperation lies in the execution and translation of scientific research so that it has an immediate social impact. You immediately notice that a combination of a scientific viewpoint and knowledge of practice offers a lot of added value for crisis professionals.'
After a lecture by Menno van Duin and Peter Bos, the third lecture series was concluded with a panel discussion. Bos: 'In the panel, we discussed the fact that the Dutch crisis management system is actually set up as a continuation of the daily bureaucratic reality at national and regional level. It will have to be better tailored to the special ability to act and organise in special situations. We need more purposeful crisis action, less bureaucratic behaviour, more targeted communication, better information and coordination structures, a better connection between state and region and new forms of democratic accountability and much more attention to participation of society in crisis management. Crisis management is a profession; not something you do on the side. '
The Netherlands Institute for Public Safety (NIPV) is the public knowledge institute that connects safety regions, central government and crisis partners and strengthens them with research, education, support and information. NIPV functions as a centre of expertise when it comes to high-quality knowledge of crisis management and fire services. In this way, NIPV contributes to a safer and more resilient Netherlands.
Paneldiscussion with Linda van Krimpen, Wout Broekema, Peter Bos, Menno van Duin and Jeroen Wolbers

Dr. Menno van Duin

Prof. Peter Bos

Jeroen Wolbers, Coby Flier en Sanneke Kuipers