ERC Creative Europe Culture grant for Alexandria: (re)activating common urban imaginaries
From 2020 to 2023, Professor Miguel John Versluys and his research group will participate in an international consortium co-funded by the Creative Europe programme of the European Union in the framework of the international project "Alexandria: (Re)activating Common Urban Imaginaries". This ERC project complements and further develops the Heritage and valorisation work undertaken as part of the VICI program Innovating Objects, in which the city of Alexandria plays a key role.
A different urban future
ALEX engages contemporary artists, scholars, social entrepreneurs, citizens and politicians in order to find new ways to reactivate European cities' urbanity. Residencies, study visits and encounters are completed by workshops designed for arts and heritage professionals to help them better understand past and present cultural exchanges in the wider Mediterranean. Can the legacy of one of the Mediterranean's most exogenous metropoles, that was at the intersection of Europe, Africa and Asia, help us to imagine a different urban future for Europe?
Transnational collaboration
ALEX has developed into a transnational collaboration between eight European and Egyptian artistic and scientific organisations. Prof. Miguel John Versluys and PhD Lennart Kruijer represent the Leiden Faculty of Archaeology. Their main work is to monitor and develop the scientific part of the project, complementing and following up on the Heritage program concerning ancient Alexandria that is carried out as part of the VICI project Innovating Objects. The Centre d'Études Alexandrines (CEAlex) will continue to function as an important partner. With the CEAlex, the VICI program already organised a major international conference on the theme of Alexandria the cosmopolis: a global perspective in 2019, that is currently being prepared for publication.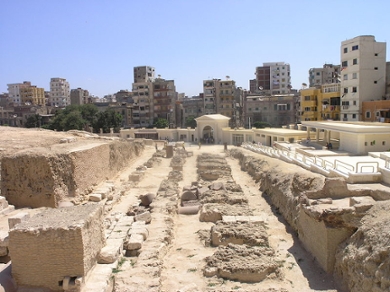 The city of Alexandria
ALEX is an innovative cultural programme that explores relations between arts, heritage and historical imagination through the prism of the city of Alexandria. Its goal is to reactivate urban imaginaries in contemporary Europe in an alternative way, using the world's first true cosmopolis as a mirror. Funded by the European Research Council (ERC) under the program Creative Europe Culture, ALEX is based on three interconnected assumptions: 1. important parts of our Classical, Mediterranean heritage remain underrepresented in Europe's mnemohistory; 2. today's European cities need new, pluri-disciplinary ways and skills to reactivate their urban environments that 3. artists from the wider Mediterranean – who need more opportunities & skills to travel and interact with European urban environments – can provide.
Rooted Cosmopolitanism
Miguel John Versluys: 'We are very happy and proud to be part of this consortium. It will enable us to further develop and implement the valorisation part of the VICI program as well as the work on ancient Alexandria of Leiden PhD Cécile Harlaut and Leiden Postdoc Eleni Fragaki. To this end we will organise next year, in Leiden and in cooperation with the National Museum of Antiquities, a consortium meeting, together with a workshop in which all main specialists on the history and archaeology of Alexandria will be present.
The ERC grant, moreover, will also allow us to continue working on the concept of cosmopolitanism in relation to Heritage. We have just organised, at the 2020 EAA conference, a session (nr. 166) on what I call Rooted Cosmopolitanism. Many concepts of present-day heritage discourses - such as local heritage practices or indigenous heritage - show a tendency to ignore the complex interplay between the local and the global. However, no human group ever creates more than a part of its heritage by itself. To address this paradox, we started exploring the idea of Rooted Cosmopolitanism. The global cosmopolis of ancient Alexandria, and its legacy, is probably the ultimate test-case to explore these questions. In many aspects, therefore, the project is very relevant, I think, for the Faculty as whole.'
About the project
ALEX grew from the cooperation between Mucem (Musée des civilisations de l'Europe et de la Méditerranée) in Marseille; the Musée Royal de Mariemont (whose current director, Dr. Richard Veymiers, was attached to the Faculty as MarieCurie fellow between 2015 and 2017) and BOZAR, Centre for Fine Art in Brussels, in preparation of a major exhibition on Hellenistic and Roman Alexandria and its (Byzantine, Islamic and Egyptian) legacy until the present day. See for more information the newsletter.