Book
Reinventing 'The Invention of Tradition'?
Indigenous Pasts and the Roman Present
Author

Dietrich Boschung, Alexandra W. Busch, Miguel John Versluys

Date

01 August 2015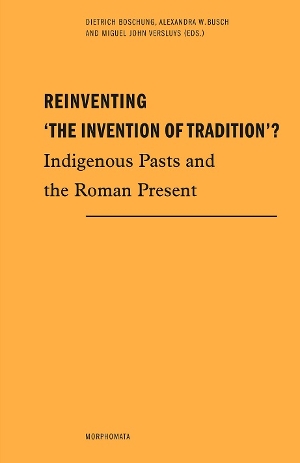 Thirty years ago Eric Hobsbawm and Terence Ranger introduced The invention of tradition as a concept to explain the creation and rise of certain traditions in times of profound cultural change. Taking stock of current theoretical understandings and focusing on the Roman world, this volume explores the concept of 'inventing traditions' as a means to understand processes of continuity, change and cultural innovation. The notion has been highly influential among studies concerned with the Greek and Roman eastern Mediterranean. Elsewhere in the Roman world and traditions other than Greek, however, have been neglected. This volume aims to evaluate critically the usefulness of the idea of 'inventing traditions' for the successor culture that was Rome. It focuses on the western part of the Roman Empire, which has been virtually ignored by such studies, and on non-Greek traditions. Why, in the Roman present, were some (indigenous) traditions forgotten while others invented or maintained? Using the past for reasons of legitimation in a highly volatile present is a cultural strategy that (also) characterises our present-day, globalized world. Can 'inventing traditions' be regarded as a common human characteristic occurring throughout world history?
The book, produced in cooperation with the German Institute for Advanced Study Morphomata http://www.morphomata.uni-koeln.de/en/, is one of the outcomes of the recently finished VIDI project Cultural innovation in a globalizing society. Egypt in the Roman world led by Dr. Miguel John Versluys. Amongst other essays, the book presents articles by Versluys himself and by Prof. Dr. David Fontijn.
The concept of 'inventing traditions' matters greatly to all archaeological and historical research, around the globe and across time. The first copy of the book was therefore presented to the Dean of the Faculty of Archaeology, Prof. Dr. Corinne Hofman, on December 10 2015.
Order information
https://www.fink.de/katalog/titel/978-3-7705-5969-5.html