Hunt for archaeological remains without leaving your home
The Heritage Quest project begins on Monday 6 April. Heritage Quest is the first large-scale citizen science archaeology project in the Netherlands: anyone can help find archaeological remains at Utrechtse Heuvelrug, a heavily forested region in the Netherlands. Citizens can thus get involved in scientific research and help protect our archaeological heritage in the Utrechtse Heuvelrug region.
From burial mounds to the Second World War
On the Heritage Quest site are elevation maps that volunteers will inspect for traces of the past. These could be not only archaeological remains such as burial mounds (from 2800-500 BC) and Celtic fields (1000 BC-200 AD), but also more recent remains from, for instance, the Napoleonic era or the Second World War.
Anyone with a computer and internet access can join in the quest. They will be given instructions beforehand, and after the first phase of the quest, on the computer, the archaeologists and volunteers will take to the field together to examine the remains that have been found. Citizens are therefore as essential to this project as researchers. To ensure that the results are reliable, each map will be inspected by at least 30 people.
Results
The results of the project may provide new knowledge about the past. They will also make it easier for us to protect the newly discovered archaeological remains for future generations. Many participants will be surprised about the archaeological remains that they find in their own area, sometimes dating back thousands of years. The results of this human quest will also be used in an academic study into artificial intelligence and automatic recognition of archaeological structures by computers.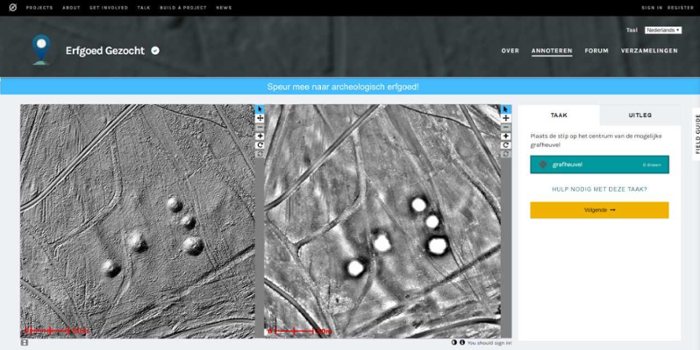 Collaboration
The Heritage Quest project is a collaboration project between Leiden University and Landscape Heritage Utrecht and was commissioned by the Province of Utrecht and the Utrechtse Heuvelrug National Park.