A visit to our partners in China
China is an important partner of Leiden University. We collaborate with more than 20 Chinese universities and welcome around 400 Chinese Bachelor's, Master's and PhD students.
Leiden University has designated China as a priority country with which it seeks to establish a long-term partnership programme for teaching and research. Our Dean, Joanne van der Leun, is chairwoman of this regional group.
Over the years our faculty has maintained good contacts with a number of Chinese universities. As a result of our agreements with universities, exchanges of students and lecturing staff take place, and joint research is conducted. Chinese students also come to Leiden to study on our (Advanced) master's programmes.
Last week Anette van Sandwijk travelled to China to visit LLM fairs organised by some of our partners, and to discuss our current collaboration with partners.
Her report:
'After a night flight (unfortunately not able to sleep on planes) I arrived in Beijing on Sunday morning. I was amazed at how this city, or at least the centre, still continues to transform and modernise. Every time I return to Beijing, something has changed. Market stalls with exotic food and souvenirs have been replaced by hip hangouts; old-fashioned and rather shabby food courts have been transformed into 'fancy' places. Still, if you leave the main streets and wander through the small side streets you can still find the authentic old atmosphere.'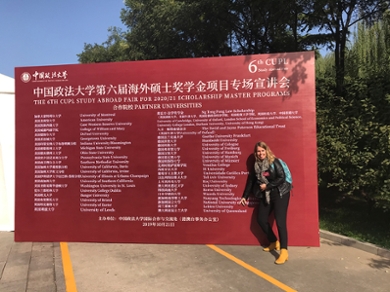 'The programme for Monday was a visit to China University of Political Science and Law. We set off early in the morning from the downtown campus together with representatives from many international universities (including a number of partners such as Koc University, Indiana University and upcoming partner Ohio University) for the undergraduate campus located outside the city. A fair had been organized here for CUPL undergraduate students. As the fair was being held outside in a tent we had been warned in advance that it could be cold at night (6 degrees) and so in the morning as well. Luckily the sun shone so the coats were soon off as the tent filled with many visitors. I particularly enjoyed speaking to a student who had been on an exchange to Leiden (and achieved very good grades) and who was now hoping to return to do a master's degree. After lunch we returned by bus to the downtown campus where following the official opening ceremony the fair for graduate students was held. The Deputy Director of the CUPL International Office, Lyu Yong, indicated that he would like to intensify the collaboration with Leiden and had a proposal which will now be discussed internally.'
'On Tuesday I flew on to Shanghai where a visit was scheduled on Wednesday to our partner East China University of Political Science and Law (ECUPL). I have been coming here for quite some time (also with my former employer) and I was given a warm welcome. ECUPL also works closely with our faculty in the field of Air and Space Law (see also international aviation law forum). ECUPL is clearly focussed on internationalisation and the university is currently active in stimulating the faculties that are not yet operating internationally to do so with the support of the central international office. We also discussed the summer school of ECUPL which three of our students were able to attend free of charge. We were complimented on how well our students had participated on the programme; I had already heard from one of the students that he had enjoyed it very much. After a very pleasant lunch I held a presentation for around 25 interested students.'
Short course programme ECUPL
'During our meeting, ECUPL explained about a short course programme that they are offering (2-8 weeks, minimum 32 hrs) for academic staff (minimum level Associate Professor). In 2020 they would like to invite 20 international experts as visiting professors to their campuses in Shanghai and have set up a selection procedure for this purpose. If accepted, ECUPL will cover the tickets, accommodation and will also provide an allowance. In particular, lecturers in Legal Writing in English, Intellectual Property Law and Procedure Law are encouraged by ECUPL to respond, but they are also certainly interested in other fields too. Applications can be made until mid-November (more information can be obtained from Anette van Sandwijk).'
'The next stop after CUPL was Peking University (PKU). We also have very good relations with this university (besides student exchanges, also staff mobility, see here). During a Study Abroad afternoon for law students, together with representatives from two American universities and a university from Hong Kong, I held a presentation for a packed room about our institutions. Afterwards, accompanied by a colleague from the University of Houston, I was given a tour of the beautiful campus of PKU by an enthusiastic student assistant, who from his first year is set on coming to Leiden University for an exchange. We'll definitely be seeing him sometime soon here in Leiden.'
For more information about the various opportunities available with our partners in China, please contact Anette van Sandwijk, Head of the Office of International Education.