'What is the value of the social sciences?'
At the Faculty's opening of the 2019-2020 academic year, the focus lay not just on the vision for the future of the social sciences, and the opening of the refurbished library, but above all on the government's plans for university financing. The speeches included an interview between Annemarie Samuels (social and behavioural sciences) and Frans Snik (exact sciences). As Paul Wouters, the dean of the Faculty, concluded: 'We, all of us, are the best antenna for orienting science towards society.'
Opening by Paul Wouters: Optimism and collaboration
'How does the FSW in Leiden envisage its profile: Who are we? What do we stand for? When should you turn to us?' These (among others) were the questions Wouters posed in his opening speech. He also gave us a quick glimpse of the Faculty Board's plans for boosting the development of the Faculty's joint strategy and strengthening collaboration within the Faculty as a whole.
'The FSW is an extremely healthy and lively faculty. We can be optimistic about the year to come because we can be really proud of the fantastic work we're all engaged in', Wouters declared. However, it is important to keep a critical eye on developments concerning the higher education system. Wouters stressed the importance of collaboration: 'In great numbers, researchers in all disciplines and from all universities are affirming the value precisely of interdisciplinary collaboration, and the contribution made by the social sciences and humanities.'
He also highlighted the importance of collaboration within the FSW, concluding on a forward-looking note: 'May our joint efforts not just lead to vibrant social sciences in Leiden, analyzing and at the same time shaping society, but also give a boost to the university of the future.'
Interview between Annemarie Samuels and Frans Snik: Scholarship is not monodisciplinary
Highlighting the current debate about the proposed cuts to higher education financing, the opening included an interview between the anthropologist Annemarie Samuels, a member of the Young Academy Leiden, and Frans Snik, an astronomer and member of the Young Academy of the Royal Netherlands Academy of Arts and Sciences: a dialogue between the social sciences (known in the Netherlands as the 'gamma sciences') and the exact sciences (known as 'beta sciences). Among other things, she asked why, as a beta scientist, he has so vehemently opposed the Van Rijn Commission - surely the measures are intended to stimulate the beta sciences?
Snik: 'All those partitions between beta, alpha (Humanities), and gamma haven't existed for years. Social scientists probably know a lot more about statistics than I do and apply much more advanced methods for certain research. And we all need each other. The policy of the government in The Hague has long been out to play us off against one another. We're determined not to let that happen, which is why I was so pleased to accept this invitation.'
Snik and his research group are studying planets that orbit stars, seeking to discover extraterrestrial life. 'This sort of discovery is not something made just by astronomers; it's something we do together with the whole of humanity. So we need to interpret the significance of such discoveries. That why I collaborate with artists and other researchers in the Humanities.' His research also has consequences for studies of climate change. 'Once we've come up with the numbers, you social scientists are needed to analyse how society will respond and whether it will actually act. So scholarship is far from monodisciplinary.'
Listen the podcast of the whole interview (in Dutch):
Meet the new assessor, Linde Helfrich: Take your chances
As the new student member of the Faculty Board, Linde Helfrich extended a warm welcome to the students in particular. She too stressed the importance of working together and entering into dialogue. 'Even though today [our] future may seem more insecure than ever, one thing we can be sure of is the significance and worth of our research and education, that analyses and shapes the society we live in.' In addition, she emphasised the many faciities the Faculty has to offer. 'Now is the time to take your chances, to make the jump. [And] make sure that our faculty allows for a smooth landing!'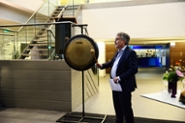 Reopening of the FSW library: Light, quiet, and transparency
As the grand finale of the opening of the academic year, Kurt de Belder, Director of Leiden University Libraries, officially opened the refurbished FSW library with a beat on the gong. 'And if you don't say it, I'll do it for you: "It's about time!". It was high time this faculty had a modern, well-equipped library.'
In line with the wishes of the faculty and its students, there are more and better-equipped study spots, with a focus on light, calm, and a transparent space. There are now 210 study spots, 60 of which are equipped with computers, as well as plenty of sockets and powerful wifi to allow library users to work on their laptop or other device. Skylights were installed that let in ample natural light, and there is a green, moss-sedum roof. 'This may also have positive effects during our hot summers.'