Digesting the EU elections over a continental breakfast
The topic of conversation at The Great Continental Breakfast the morning after the EU elections in the Netherlands was the election campaign, the – lacking? – constitutional basis of the EU and the Timmermans effect. 'These were the most normal EU elections ever!'
'There are some things about the EU that I just don't understand, so I've come to find out more,' said third-year law student Myrte as she took a bite out of her bread roll.
'We know more about the American elections than about the ones in the EU,' added her neighbour Wim. The Political Legitimacy expertise centre and DIQIT study association had invited students and staff to a review of the elections based on the first exit polls. About 45 of them had turned up, and a panel of experts in political science, constitutional law, public administration and history sat ready and waiting, plates and cups already full. The moderators were Geerten Waling and Gerhard Poolman.
Curious about Timmermans effect
The provisional results in the Netherlands, with a surprising win for the PvDA, or at least its lead candidate Frans Timmermans, were not easy to explain. Professor of Political Science Amy Verdun had the following to say, 'Timmermans did well in debates in Florence and Maastricht. This might have caught people's attention. Or it might be that they choose him as a person. I'm curious about the Timmermans effect.'
Volkskrant columnist René Cuperus, who studied political and cultural history, thought it was strange that Timmermans had won so many votes when he wasn't even in the European Parliament: 'He's a commissioner; he's at the controls.'
Like Verdun, Rogier Elshout – who studied public administration and is now a professional moderator – thought Timmermans had done really well: 'For once, he didn't talk about the powers of the EU, but spoke instead about the content of EU policy. That's normal! These were the most normal EU elections ever!' He saw the results as, 'somewhat of an anti-Nexit vote, although it's a bit like reading tea leaves.'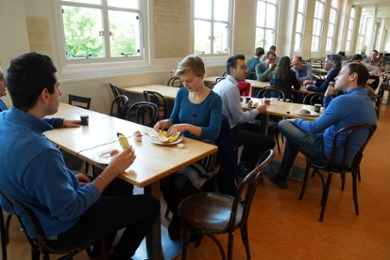 From angry white man to reasonable man
Elshout was hoping for a shift in the media, now the election results had revealed a more pro-EU climate: 'For the last ten years, the media have always been doorstepping angry white men. All you had to do was pull on a yellow vest and they'd be there. Let's spend the next ten years doorstepping the reasonable man. That would be fantastic!'
Verdun added some nuance to the shift from angry to reasonable because the two can also go hand in hand. Topics such as terrorism and migration, typical topics for 'angry people' can clearly not be tackled by the Netherlands alone. 'If you want to tackle crime, and see that it's the Russian mafia, you realise that we need Europe if we want to do anything about it,' she said. The same is true for climate change.
EU always 'in development'
The discussion then moved onto an interesting constitutional conundrum. What exactly is the European Union? Ten Napel had his doubts. 'It's appealingly simple in constitutional law,' he said, 'because there are only three varieties: the unitary state, the federal state and the confederation. When the EU began to develop, everyone thought something good would come of it, but now, some 30 or 40 years later, it's an intermediate form that is still developing. My question is whether, from the perspective of constitutional law and political science, we shouldn't question this more.'
Panel member Simon Otjes, a political science lecturer, remarked, 'The Netherlands is also a federation of four countries, with the Leeward Islands. Each country has its own particular form. The EU might be a strange mix of federation and confederation but that doesn't make it less legitimate.'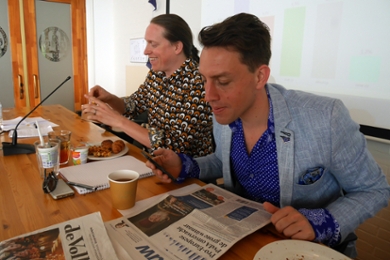 Sparrow or hummingbird?
Elshout brought the discussion about state structure to a decisive end: 'It feels as though we're at a bird fair. Is it a sparrow with a touch of hummingbird or a hummingbird with a touch of sparrow?'
Ten Napel added: 'The key question is whether it's a pretty bird? The EU is gaining increasing powers and many administrative law experts are beginning to wonder whether it is becoming a threat to its own member states. Are the traditional rights of the Dutch parliament being whittled away? And what about sovereignty? I don't have a ready-made answer. There has to be an academic debate.'
Professor of Dutch history, Henk te Velde, put the question into the historical perspective. 'This is all very theoretical. When you hear about legitimacy in the media, this always means public support for the EU, but when the EU was set up the aim was to limit public participation. They wanted to make sure that fascism and nationalism would never take hold again.'
Sounds like this continental breakfast was just what law student Myrte was looking for.
DIQIT and Political Legitimacy
The Great Continental Breakfast was organised by DIQIT [in Dutch], the study association for the bachelor's programme in philosophy of law, and the interfaculty Political Legitimacy research profile, a research network comprising four faculties and about 200 researchers from Leiden University.
Text & photos: Rianne Lindhout
Mail the editors