Round table symposium 'Government and private governance'
On 10 October 2018 Cees de Groot and Jelle Nijland organized a round-table-symposium 'Government and private governance' for experts in the field of private governance issues. This day was made possible by the LUF. The main objective of the symposium was to brainstorm with experts from various backgrounds, including the (healthcare) practice, Ministry of Finance, legal profession and academia.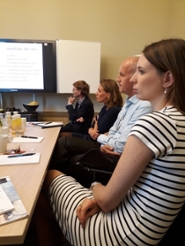 Government and private governance
The experts had discussions about the various mechanisms by which the government forces companies in the private and semi-public sector to adjust their (internal) governance to safeguard a public interest and to identify and appreciate the motivation, the structure and the usefulness of this influence. During this fruitful day, many lively discussions took place on different private governance issues. This included questions such as whether or not independent governing bodies should have legal personality, and if so, what legal form would be most appropriate, and how these entities should be supervised. State participation in private governance, for instance, by holding golden shares was also discussed in relation to possible liability for the State, European legislation on state aid, the influence of market forces and politically sensitive topics, such as remuneration for directors.
The results of this round-table-symposium are expected to be published in 2019.
Photographs: Susan van den Nieuwendijk