Shower of prizes at the World Cultural Council ceremony in Leiden
Leiden University celebrated the annual prize ceremony of the World Cultural Council (WCC) on 8 November with lectures by leading scientists in a festively decorated Pieterskerk.
The World Cultural Council
The international WCC organisation promotes research, culture and creativity at international level. The annual WCC award ceremony, held each year in a different country at a different university, is an important event in the WCC calendar. This year Leiden University was chosen to organise the event, due partly to the fact that Leiden astronomer Ewine van Dishoeck was the winner of WCC's prestigious Albert Einstein Award of Science in 2015. Van Dishoeck acted as Master of Ceremonies for the day.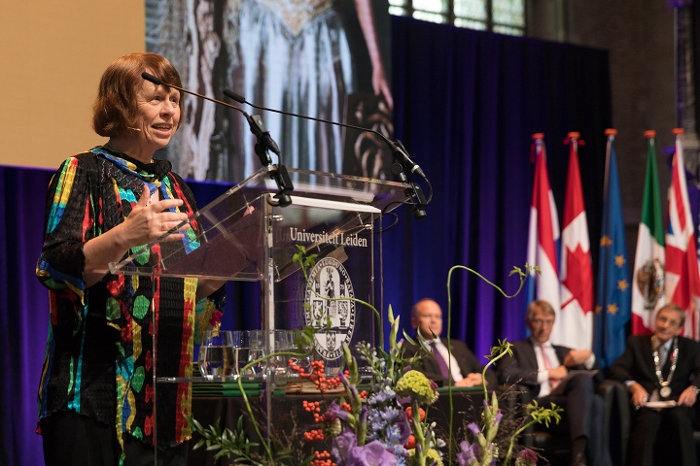 Albert Einstein and Leonardo Da Vinci Awards Awards
The two main prizes of the day, the Albert Einstein Award of Science and the Leonardo Da Vinci Award of Arts, were presented this year to chemist Omar M. Yaghi (University of California, Berkeley) and ethnomusicologist Russel Hartenberger (University of Toronto). Both scholars gave a personal word of thanks. Raghi thanked his Jordanian parents, who came from a very simple background, and told the audience how the beauty and wonder of science and culture inspired him as a small boy with very limited opportunities to try to advance his knowledge. Today he is the most cited chemist in his field. Hartenberger also explicitly thanked his family for their enduring support for his work.
The two winners had each given a lecture earlier in the day about the work that earned them these prizes. Omar Yaghi, professor of Chemistry at the University of California, Berkeley, talked about his contribution to the discovery and further development of new porous and crystalline materials based on metal-organic frameworks (MOFs) and covalent organic frameworks (COFs). This discovery may have valuable applications for industry and the environment.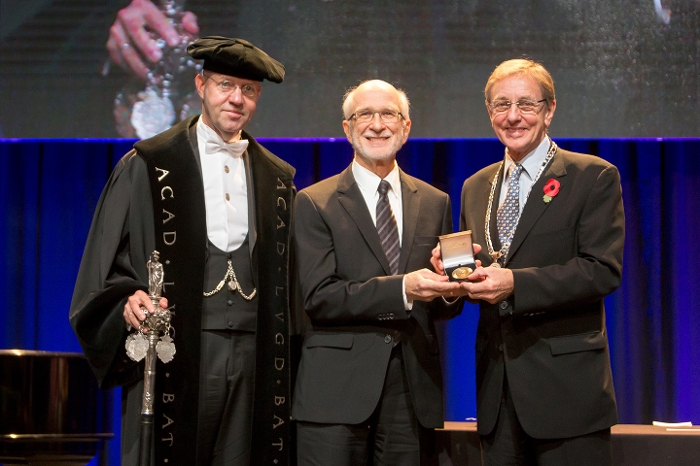 Russell Hartenberger, emeritus professor of Ethnomusicology and Percussion at the University of Toronto, explained in his lecture how he conducts research on the infectiousness of different drum rhythms and how senses and muscles work together to play a beat. He used music by Steve Reich, composer of so-called minimalistic music, and West African drums to illustrate his lecture.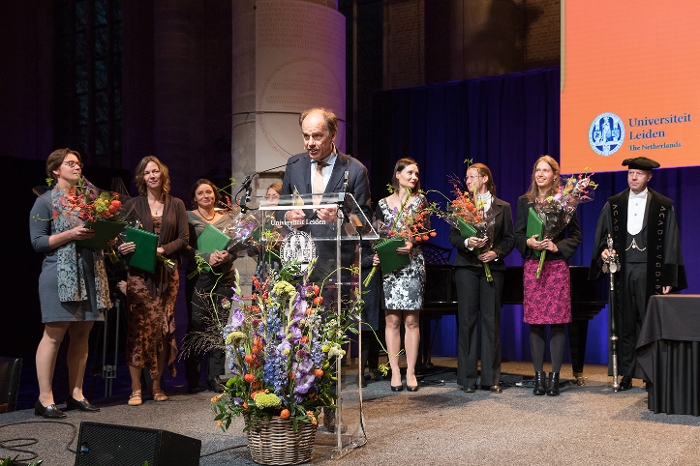 Special Recognitions
Leiden University also shared in the prizes with nine Special Recognition Awards. These awards were made to talented female researchers who, in the words of the WCC, are particularly skilled at making their research findings accessible to the general public.
These researchers are: Nadine Akkerman, Ann Brysbaert, Marike Knoef, Marianne Maeckelbergh, Victoria Nyst, Sarah de Rijcke, Alicia Schrikker, Martina Vijver and Inge van der Weijden.
The following films were shown to give the audience an impression of the research carried out by the nine scholars.