Nadine Akkerman
Senior University Lecturer
Name

Dr. N.N.W. Akkerman

Telephone

E-mail

ORCID iD
Dr. Nadine Akkerman, FRHistS is a Senior Lecturer / Reader in early modern English literature at the Centre for the Arts in Society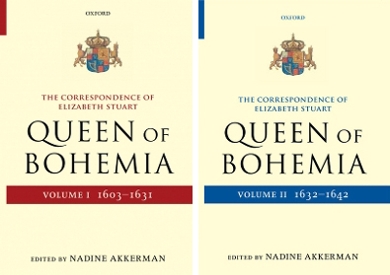 Recent and on-going research
My primary ongoing project is the editing of the complete correspondence of Elizabeth Stuart (1596-1662), Queen of Bohemia, published by OUP in three volumes, of which my prize-winning PhD (2008) serves as the groundwork:
Vol. I: 1603-1631 (publ. 20 Aug. 2015)
Vol. II: 1632-1642 (publ. 25 Aug. 2011)
Vol. III: 1643-1662 (forthcoming)
​I am currently putting the finishing touches to the biography of Elizabeth Stuart, which will be published in 2020 by Oxford University Press.
As part of the international research team 'Signed, Sealed and Undelivered', a collaboration with Yale, MIT, Oxford, and Groningen, I am the main applicant of the NWO Added Value in Humanities grant (2016-2017) and of the NWO Internationalisation in the Humanities grant (2016-2019). For details see brienne.org.
With my colleague Dr Helmers Helmers (University of Amsterdam), I lead the NWO project 'Maritime Archeology Meets Cultural History: The Texel Shipwreck BZN17 in Context'.
I have published extensively on women's history, diplomacy, and masques, most recently, the critically acclaimed Invisible Agents – Women and Espionage in Seventeenth-Century Britain (Oxford: OUP, 2018). Other publications include The Politics of Female Households: Ladies-in-Waiting across Early Modern Europe (Leiden: Brill, 2013), edited with Birgit Houben, the first collection that seeks to integrate ladies-in-waiting into the master narrative of early modern court studies, and Courtly Rivals: Elizabeth Stuart (1596-1662) and Amalia von Solms (1602-1675) in The Hague, which appeared on the occasion of an exhibition of the same name at the Historical Museum in The Hague ('Het Haags Historisch Museum') held between 24 October 2014 and 15 March 2015.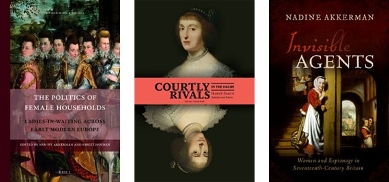 Prizes
My research activities have been supported, among others, by the Prins Bernhard Cultuurfonds, NWO, and the British Academy. In April 2018, I was awarded the Ammodo Science Award for fundamental research in the humanities. In November 2017, I received the World Cultural Council Special Recognition Award. In 2009 I was awarded the Studieprijs Stichting Praemium Erasmianum, a national award, for the completion of an extraordinary PhD in the field of humanities, social sciences or behavioral sciences.
Dissemination of Research
I have given presentations at several literary festivals, including the Hay Festival, Edinburgh Spy Week and Althorp, and also at institutions including Google UK and Lincoln's Inn. I have been historical advisor to several exhibitions. With Jana Dambrogio, the Thomas F. Peterson (1957) Conservator of MIT Libraries, I am the co-director of a growing number of videos on letters, espionage and materiality: click here for Courtly Rivals or Spies and Secrets on Vimeo (also available on YouTube). Follow me on Twitter @misswalsingham.
I am represented by Johnson & Alcock.
Curriculum Vitae
I studied English Language and Literature at the Vrije Universiteit in Amsterdam from 1996 to 2001. In November 2008 I was awarded my PhD in English Literature 'cum laude' (with distinction) for a dissertation entitled, "The Letters of A Stuart Princess: The Correspondence of Elizabeth Stuart, Electress Palatine of the Rhine, and Queen of Bohemia". My dissertation includes a census of all the letters, either to or by the Queen of Bohemia, many of which are dispersed in archives across the world and which were before my edition mostly unpublished. I have been lecturing at Leiden since 2007. I was elected as member of The Young Academy (KNAW) in 2017.
1 September 2018 – 30 June 2019
Visiting Fellow at All Souls College, Oxford
21 July 2017 (ongoing)
NWO Aspasia
1 September 2015 – 30 June 2016
Fellow at The Netherlands Institute for Advanced Study in the Humanities and Social Sciences (NIAS)
1 March 2011 - 1 March 2015
NWO VENI research fellow at Leiden University Centre for the Arts in Society (LUCAS)
27 May 2014 – 4 July 2014
Distinguished Visiting Fellow at the Institute of Advanced Studies, University of Birmingham
1 February 2010 - 28 February 2011
NWO RUBICON research fellow at Leiden University's Institute for History
Since 1 May 2017
Senior Lecturer / Reader in early modern English Literature, Leiden University
1 September 2007 - 30 April 2017
Lecturer, Leiden University
1 August 2006 – 1 August 2007
Junior lecturer Radboud University Nijmegen
1 September 2002 – 9 December 2006
PhD student / Junior lecturer Vrije Universiteit, Amsterdam
Teaching activities
I will be teaching the Shakespeare's Sister MA course from September 2019, as well as my usual supervisory activities.
Senior University Lecturer
Faculty of Humanities
Centre for the Arts in Society
Moderne Engelstalige letterkunde
Work address
Arsenaal
Arsenaalstraat 1
2311 CT Leiden
Room number B0.28
Contact
a foundation for the promotion of the History of Ideas in the Early Modern Period